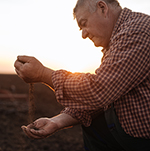 Concerning rates of suicide are prevalent among farmers, construction workers, entertainers and other key occupations, according to a new Evidence Check published by the Sax Institute.
Researchers at Monash University reviewed more than 60 international studies into prevalence data for suicide death, ideation and attempts. They found high rates of suicide risk among farmers, construction workers, emergency services personnel, veterinarians, entertainers and artists, those in the transport industry, as well as in female doctors and male nurses.
Suicide is the leading cause of death for Australians between the ages of 15 and 44, and over 3,000 suicides were recorded in Australia in 2018.
While the causes of suicide are complex, this Evidence Check shines a light on which occupations are more prone to suicide, concluding that "there is an urgent need for high-quality evidence as to the effectiveness of suicide prevention programs, to ensure that government spending appropriately targets programs and interventions that provide the best chance of reducing suicide rates in the NSW workforce."
The Evidence Check goes on to reveal that the risk of suicide is higher in jobs where there is a high job demand, low autonomy or control, shift work, physical danger and access to lethal means of suicide such as guns (see below list for details). The authors also indicate that personality plays a part in choice of occupation – with socioeconomic, personality, mental health, substance use and demographic factors making people more at risk of suicide.
The Evidence Check details the following suicide risk by occupation:
Farming and Agriculture: Increased access to lethal means appears to be of particular significance among those in the agriculture sector. Suicide rates for farmers in Queensland have been found to be more than twice those in NSW, with farmers in NSW nevertheless showing elevated risk compared with the general population.
Veterinarians: suicide risk among veterinarians was consistently higher than among other healthcare professionals, with suicide rates twice as high as those in other health disciplines and four times higher than the general population. Increased access to lethal means may act as a risk factor for veterinarian suicide, with 80% of cases in Australia involving self-poisoning.
Medical Practitioners: Female medical doctors are more likely to commit suicide than their male counterparts, with self-poisoning the most common lethal means. Relationship problems were the most frequently noted life events prior to suicide in both groups.
Nursing and Midwifery: Suicide risk is higher for nurses and midwives than those in other occupations. Occupational gender norms and anxiety about perceived stigma were also highlighted as potential risk factors for male nurses and midwives, due to the traditionally feminised characterisation of such roles.
Paramedics: The report states there is a relative paucity of research that has investigated the suicide rates of paramedics.
Firefighters: The report also states there is a lack of information on suicide risk amongst firefighters in Australia.
Law Enforcement: While international data indicates increased risk of suicidality among police and correctional workers – with suicide rates in the US up to 69 per cent higher than the general population – Australasian studies have found no significant increase in police suicide rates compared to the general population. However, there is an increased risk for correctional officers.
Construction: Existing Australian evidence showed that lower-skilled roles in Australian construction, such as machinists and labourers, had significantly higher suicide rates than skilled workers, with the risk of suicide amongst lower skilled construction workers almost double that of other occupations.
Creative Industries: An Australian study found that artists of both genders (with occupations such as actors, dancers, authors, directors, designers, media presenters and musicians) had a slightly elevated risk of suicide, with females in that cohort at higher risk than females in all other occupational fields.
Read the full Evidence Check here
*Readers seeking support and information about suicide prevention can contact Lifeline on 13 11 14, or Suicide Call Back Service 1300 659 467.
A Sax Institute Evidence Check conducts a rapid review of existing research and evidence that is tailored to a policy agency's individual needs. To find out more, visit the Sax Institute's Evidence Check Library.