Findings of a Sax Institute Evidence Check review on the topical issue of commissioning primary healthcare services have been published in the Australian Journal of Primary Health.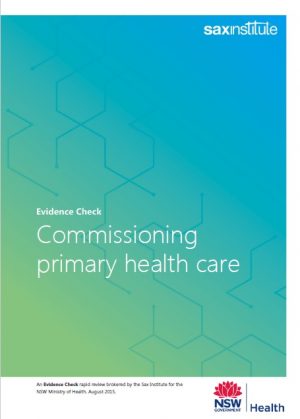 The Evidence Check was commissioned by the NSW Ministry of Health to assist in assessing evidence on what forms of commissioning would support best value investment for primary care, especially at the primary-acute care interface and for chronic disease management.
Evidence Checks brokered by the Sax Institute involve conducting a rapid review of existing research and evidence that is tailored to answer policy and program agencies' specific questions and to help inform their work.
A team of researchers from the Centre for Primary Health Care and Equity at the University of New South Wales conducted the review, and outlined some of their findings in a paper recently published in the peer-reviewed journal.
They defined commissioning as the process of planning, purchasing and monitoring services for a population, sub-population (eg people with diabetes in a given region), or an individual client.
In Australia, commissioning has been used largely to fill gaps in primary healthcare service delivery for sub-populations, but the researchers said the push to move away from a system that rewards occasions of service to one that places greater emphasis on the equality and cost of service delivery was an important driver for considering a greater role for commissioning in our health system.
Evidence gap revealed
However, the review of 36 papers revealed significant evidence gaps. There was little evidence of the effectiveness of commissioning at any level, and those impacts that were observed were highly context-dependent. No preferred model for commissioning could be identified.
Lack of skills and capacity were major barriers to implementing commissioning, the researchers found, and engagement of both consumers and providers, especially physicians, was critically important to  the success of commissioning, although it was also time consuming and difficult to sustain.
"Successful commissioning requires a clear policy framework of national and regional priorities that define agreed targets for commissioning agencies," the paper states.
Avoiding serious problems
The review found that adequate information on the cost, volume and quality of healthcare services was critically important for setting priorities, contracting and monitoring performance.
Lack of this type of information resulted in serious problems in New Zealand in the 1990s, the authors warned.
Critical factors included clarity of roles and responsibilities and for a high-quality, nationally standardised performance measures and data requirements to be built into contracts, alongside ongoing monitoring and evaluation, they wrote.
Australia might be wise to start commissioning in areas where the benefits were clearest, monitoring progress carefully, and only expanding after gaining further experience, they suggested.
"In Australia, there is significant work to be done in areas of policy and governance, funding systems and incentives, patient enrolment or registration, information systems, individual and organisational capacity, community engagement and experience in commissioning," the researchers concluded in the paper.
Find out more