Australia's leading data custodians and users of linked data joined an online showcase of the new ways in which SURE 2.0 is supporting health research through improved data sharing and analysis capabilities.
'SURE 2.0: Ready for the future of research' was held online on July 27, bringing together more than 100 researchers, data users and data custodians to learn about the new capabilities SURE has established and the impact of research being conducted in SURE.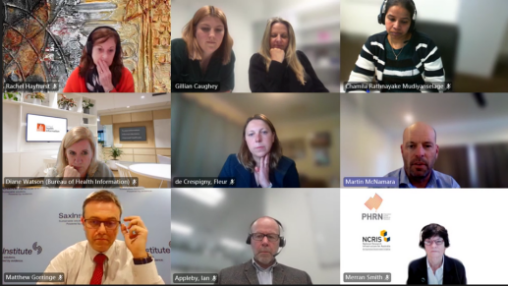 Attendees heard from Dr Merran Smith, Chief Executive of Population Health Research Network, SURE's primary funding partner. Dr Smith spoke about the vital role SURE has played in the management of Australia's linked health data since its establishment. She also discussed the growing importance and complexity of linked data and how SURE can support its potential use by omics and AI research.
"I think there'll be more clinical data, more omics data and more imaging data going forward," Dr Smith said. "Data from biobanks is already being linked to population data, and that's a sign of things to come."
SURE's steady growth in users and storage capacity, along with its open-access design, means that it can support this emerging data environment, Dr Smith said. "SURE's infrastructure is essential for all of these health research futures."
Matt Gorringe, Director of SURE, outlined the recent and planned improvements in SURE's capabilities to support research. SURE's virtual machines now have an "almost limitless" amount of memory available as well as new powerful computational hardware such as GPUs being used for machine learning and imaging analysis, with more upgrades to computing and storage coming soon.
"These improvements have extended SURE's capabilities for custodians and users – there's more than 650 users in SURE today, and more than 30 different data custodians that are making data available through SURE," he said. "It's now much more than just health data: there's a lot of human services data and social services data too."
Associate Professor Gillian Caughey, Associate Director of the Registry of Senior Australians (ROSA), spoke about how SURE has supported the massive growth of the clinical quality registry and data platform since its launch in 2017. ROSA now has 4.6 billion records, which include national aged care services data and numerous health and human services data linkages. SURE worked closely with ROSA to improve storage and analytical speed for users, said Associate Professor Caughey.
"The only reason we're able to access all this data is because it's actually stored under this safe and secure platform of SURE," she said.
Bringing together big data like this has already had an impact on aged care. ROSA contributed to the recent Royal Commission into Aged Care Quality and Safety, and supplies quality and safety metrics to South Australian aged care providers, based on the data it receives from them.
"We're a relatively new research centre, but we've been able to influence both policy and practice," said Associate Professor Caughey.
Dr Diane Watson, Chief Executive of the NSW Bureau of Health Information, shared some more fascinating examples of data available through SURE, such as survey results from more than 900,000 NSW hospital patients.
"Researchers have access to internationally unique data in terms of the volume of completed surveys and the robust, representative information across many hospitals in NSW," Dr Watson said.
These patient-reported experiences and outcomes include reflections on a care journey or an acute episode of illness, at periods of either a month or three months or 12 months later.
"We want to collaborate with researchers using SURE to ensure that this information is used to improve care in NSW."
Dr Fleur de Crespigny, Acting Head of Data Strategies and Discovery Group at the Australian Institute of Health and Welfare (AIHW), spoke about the legal and ethical underpinnings of data access and how SURE works closely with AIHW to ensure strong data governance.
"We're aiming to share and release useful, legal and safe data while minimizing the cost to researchers," said Dr de Crespigny.
With nearly 300 researchers currently accessing AIHW data through SURE, security is paramount. SURE's onshore storage of data, plus its researcher training and data governance capabilities all demonstrate its commitment to data-sharing obligations, Dr de Crespigny said.
"We have a really strong working relationship with SURE which I think is essential at a time when the data landscape is evolving rapidly."
SURE is operated by the Sax Institute and is supported by the Population Health Research Network which is an initiative of the Australian Government National Collaborative Research Infrastructure Strategy (NCRIS) and the NSW Government.
A recording of 'Sure 2.0: Ready for the future of research' can be viewed below or here: