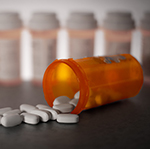 Researchers are using the Sax Institute's Secure Unified Research Environment (SURE) to shed light on how many Australians follow the medication instructions provided by their doctors. And the results are informing a new measure for medication adherence.
SURE is the Sax Institute's secure online platform for efficiently analysing sensitive big data data. Researcher Kyu Park, PhD candidate at the Macquarie University Centre for the Health Economy (MUCHE), used the platform to analyse the linked health data of over 22,000 Australians participating in the 45 and Up Study, focusing on those taking antidepressants, bisphosphonates or statins.
Prescribed to treat chronic conditions such as depression, osteoporosis and cardiovascular disease, all three medications are widely-used and can be expensive. In 2019-20 alone, 4.4 million Australians received mental-health related prescriptions, and statins continue to be the most common prescription drug. Taking the right drug in the right way is essential for effective treatment, but not all Australians are following the instructions on the label.
"Sometimes people take the prescribed amount of medicine in the beginning, but this later declines" said Kyu. "Traditionally, medication adherence is measured with a percentage figure relative to the amount recommended by their doctor, for example 80% adherence. But another way of measuring it is by categorising the types of medication use and considering temporal patterns of use."
Efficiently analysing linked health data
Known as group-based trajectory modelling (GBTM), this new method has been explored internationally as an improved approach to measuring medication adherence.
Kyu wanted to see how GBTM could apply to Australian medication adherence. Using the new modelling, he wanted to more accurately measure the demographic, economic and health factors that might influence people's behaviours when it comes to medication, and the resulting impact on the cost to the healthcare system.
He chose the SURE platform for the research. "We wanted to find health-related data that had information about medicines and characteristics of the older population. We decided to go with SURE and the 45 and Up Study because it can be linked to other administrative health data."
Using a combination of survey answers from the 45 and Up Study, as well as linked MBS and PBS data, and hospital records, Kyu was able to associate medication adherence to patient characteristics and to healthcare costs.
While the GBTM method didn't dramatically change the results compared to traditional methods, Kyu said it provided a more nuanced understanding of the relationship between medication adherence, patient characteristics and healthcare costs.
"We found that the cost in relation to hospital admission was $1,190 higher for nonadherent bisphosphonate users, with no significant impact measured for each type of adherence. However, for antidepressant users, the cost was $640 higher only for those in specific adherence types, showing declining adherence over time" he said.
Kyu's research paper will be published in early 2022, and he hopes the findings can be used to inform more tailored interventions to improve medication adherence.
Identifying temporal patterns of adherence to antidepressants, bisphosphonates and statins, and associated patient factors will be published in SSM – Population Health Journal in 2022. Authors: Kyu Hyung Park, Leonie Tickle, Henry Cutler.
---
SURE was developed by the Sax Institute, and is operated as part of the Population Health Research Network (PHRN) with funding from the Australian Government National Collaborative Research Infrastructure Strategy (NCRIS) and the NSW Government.
The 45 and Up Study includes over 276,000 participants. It is a resource available to all researchers who have obtained appropriate ethics approval.
Find out more
Discover how you can use SURE for your next research project here
Read about other SURE research projects
Apply to use the 45 and Up Study and linked data here
---