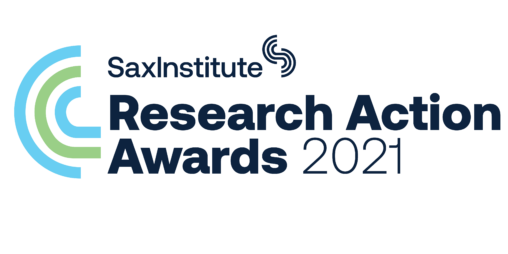 Applications are now closed. Subscribe to Evidence Matters for updates on the Research Action Awards 2021 winners.
The Sax Institute's Research Action Awards honour individuals whose research has made a significant impact on health policy, programs or service delivery. Up to two Awards will be granted and each winner will receive a certificate and prize of $5,000.
Winners will be announced at an invitation-only event on Wednesday, 8 December.
Eligibility
Applications are open to early- to midcareer researchers who work for one of the Sax Institute's Member organisations and have up to 15 years' postdoctoral or equivalent experience. Applications must describe their public health or health services research that has had an impact on health policy, programs or service delivery, and demonstrate evidence of the impact.
Our members are leaders in public health and health services research. If you work for an organisation that engages in a relevant research program but is not yet a member, why not discuss applying for membership with your centre manager? Details of the eligibility criteria and how to apply for membership can be found here.
The awards presentation
Award winners will be honoured at a ceremony in Sydney on Wednesday, 8 December. Senior health policy leaders and members of the public health and health service research communities will be invited to attend. The Institute will interview the winners before the presentation event to prepare news items and other content designed to showcase their achievements to the media and wider community.
Thanks to our sponsors
We would like to acknowledge the Commonwealth Bank of Australia for their generous support of the Research Action Awards 2021.
Enquiries
For all enquiries, please contact the Sax Institute:
Email: [email protected]
Phone: (02) 9188 9500