Two health researchers whose inspiring work has had a direct impact on policy and practice in very different areas of public health were recognised at the Sax Institute's 2022 Research Action Awards last week.
An enthusiastic audience of about 100 senior policy makers, research leaders and academics gathered at Sydney's Darling Quarter to celebrate the achievements of the two winning researchers:
Dr Archana Koirala, National Centre for Immunisation Research and Surveillance, for her work on the impact of the COVID-19 pandemic on the Australian paediatric population
Dr Michelle Barakat-Johnson, Susan Wakil School of Nursing and Midwifery, University of Sydney, for her work on the prevention and management of hospital-acquired pressure injuries.
You can read more about their outstanding work here.
Established in 2015, the annual Research Action Awards recognise researchers whose work has made a significant impact on health policy, programs or service delivery.
Delivering the opening address at the awards ceremony, NSW Secretary of Health Susan Pearce made the powerful point that "exceptional care is about human beings caring for other human beings."
She said that after two years of the challenges of dealing with the pandemic, fostering research and innovation was key to helping the health system and the hard-working professionals within it to recover.
"My message to researchers is that we need you for our future and we look forward to working with you."
Ms Pearce paid tribute to Professor Sally Redman AO, who in January is stepping down from her role as Sax Institute CEO, thanking Sally for her contribution not only to the Institute but to the New South Wales health community.
This year's ceremony also included a lively panel discussion chaired by Dr Martin McNamara – who will be stepping into Professor Redman's shoes as the Sax Institute's new CEO – around the theme of how research can best inform current health system challenges. The panel comprised Ms Deborah Willcox, Deputy Secretary, Health System Strategy and Planning at NSW Health; Dr Lisa Studdert, Deputy CEO at the National Disability Insurance Agency; and Professor Andrew Wilson, Co-Director at the Menzies Centre for Health Policy and Economics, University of Sydney, and Chair of the Pharmaceutical Benefits Advisory Committee.
During the discussion, Ms Willcox emphasised that "everything that we do has to be centred around patients and their needs. Listening to them and hearing their perspectives should drive the research agenda, which in turn drives improvements to the patient experience. That's ultimately what we're all about."
Professor Wilson said one major lesson he'd learned about making research impactful was the importance of understanding what the decision you are trying to inform is actually about.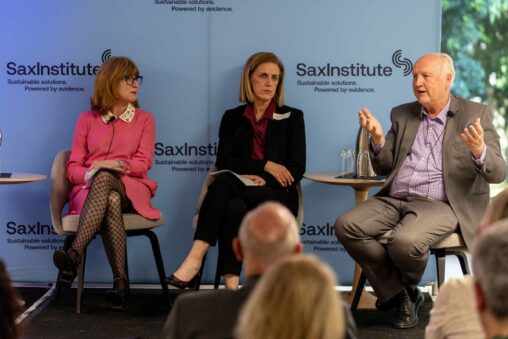 "We dream up research questions that are not necessarily the ones decision makers need," he commented.
He also emphasised the importance of thinking early about communicating research findings.
"What's the message we're trying to get across? And how do you get it to the right person? The experience of working in a policy environment is the importance of how that message is conveyed and who conveys that message," he noted.
In summarising the panel discussion, Professor Redman said that having heard from the health leaders on the panel, her sense was that as long as the health system was in the hands of such thoughtful, talented and hardworking people, it would continue to grow, develop and be informed by research.
"One of the joys of being part of the public health and health service community is that it truly is a community, and it has been a great experience to be part of it," she said.
The Sax Institute thanks the NSW Ministry of Health and the Commonwealth Bank of Australia for their generous support for the Research Action Awards 2022.