Cohort studies are a unique resource for informing policy, program and service decisions – and they could be used to even greater effect, Sax Institute CEO Professor Sally Redman told a major conference this month.
Professor Redman, who gave a keynote address to the recent Australian Longitudinal Study on Women's Health (ALSWH) scientific meeting in Newcastle, NSW, said cohort studies provided not only local data and timely answers, but could show changes over time in both causes of health and disease and in the impact of policies and program.
"Looking at changes over generations informs policies as it shows what's improving and what's getting worse," she said.
Changing the policy landscape
Australia's major cohort studies had influenced a wide range of government policies and public health initiatives, she said.
The ALWHS, Australia's foremost study on women's health which involves more than 58,000 women, marked 20 years of research at the meeting. Professor Redman said findings from the Study had helped inform a raft of policies, including the 2010 National Women's Health Policy and the 2014 Physical Activity Guidelines.
Another cohort study that was making a difference was SEARCH ‒ Study of Environment on Aboriginal Resilience and Child Health, which is Australia's largest long-term study of the health and wellbeing of urban Aboriginal Children, she said.  The study had shown that one in two children aged seven or under had a speech and/or language impairment and one in three had middle ear disease, leading to the NSW Ministry of Health funding the $2.3 million HEALS project that had provided care to almost 800 children, and was helping eliminate waiting lists for speech and language therapy and ENT surgery.
The success of these major cohort studies lay partly in strong partnerships between the investigators, funders, government bodies and policy agencies, she said.
Enhancing cohort studies' impact
Professor Redman said there were opportunities to further enhance the impact of cohort studies through strategies such as ensuring long-term funding, introducing clearer measures of impact, and developing better partnership skills among researchers.
"Co-production of research is one way forward," she said. "The impact will be enhanced if policy makers and researchers together develop the research questions, design and implement the research and interpret and disseminate the findings."
Researchers also needed to put greater emphasis on questions that mattered to those involved in health policy and program delivery – such as economics, trajectories of ill health and evaluation of interventions, she suggested.
"Economic information is very important for policy makers," Professor Redman said. "Researchers need to do more in this space."
Leaping through policy windows
Professor Redman outlined how research based on the  Sax Institute's 45 and Up Study had revealed that up to two thirds of current smokers would die from their habit ‒ a major shift from the previous estimate of one half. Those findings had fed into anti-smoking advertising as well as being included in recommendations by Federal, State and Territory health Departments, tobacco divestment initiatives and smoking cessation services, she said.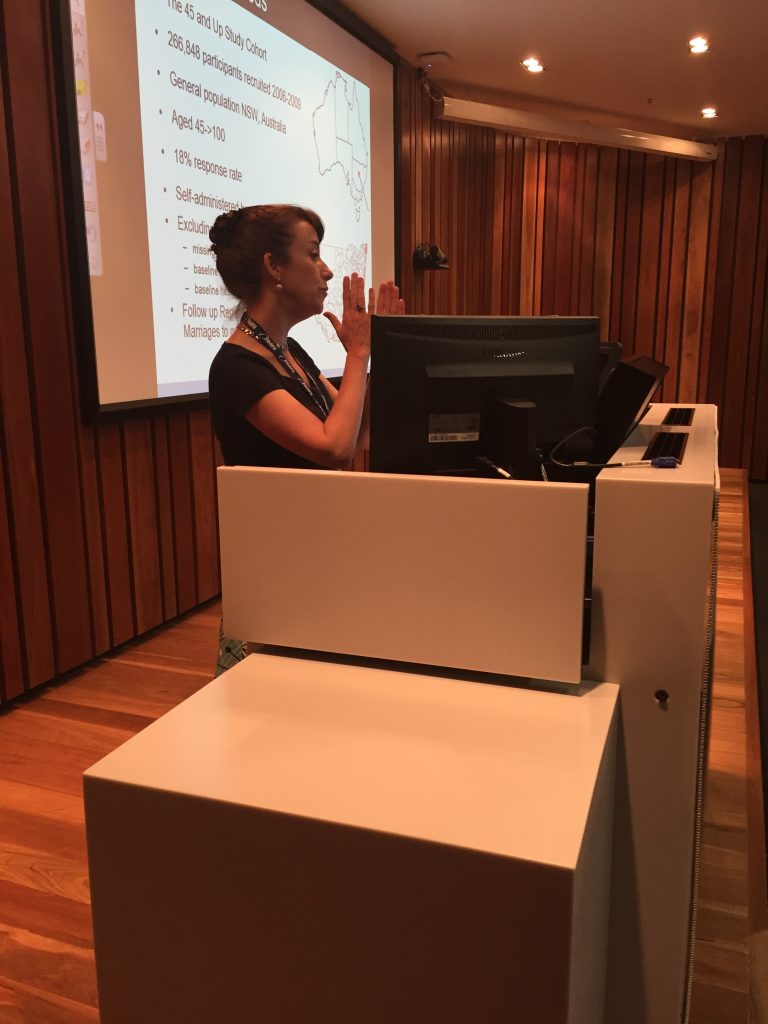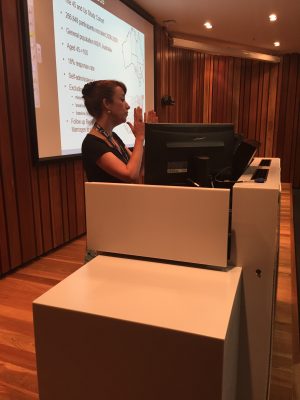 45 and Up Study Scientific Director, Professor Emily Banks, who led the  smoking study, told the conference that its widespread impact was not solely due to the strength of the findings. Other factors at play included the fact that the findings were the culmination of a broader, longer effort in tobacco control, that there was early consultation about the research with key players in tobacco control, and that a media campaign saw the findings disseminated internationally.
She said cohort studies had underpinned major health improvements in the last 50 years, including reductions in tobacco smoking, blood pressure and cholesterol, but she said aligning the science with policy and practice was a complex process.
But findings from such studies were only one factor in the policy-making equation. A host of issues fed into that equation, culminating in a "policy window" when change was likely to occur ‒ often triggered by a major event like a health crisis or budget negotiation, Professor Banks said.
Founding director of the Australian Longitudinal Womens' Health Study, Professor Annette Dobson, said the 20 years of data the Study had collected to this point was a rich resource for research into a broad range of women's health issues.
Find out more