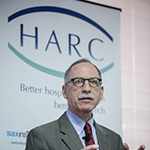 The traditional 20th century model for delivering primary care no longer works, a US expert told a recent HARC-sponsored symposium exploring the concept of the Patient-Centred Medical Home (PCMH).
Professor Kevin Grumbach, a family physician and a founding director of the Centre for Excellence in Primary Care at the University of California San Francisco School of Medicine, addressed a recent symposium hosted by the Hospital Alliance for Research Collaboration (HARC) and the Centre for Primary Health Care and Equity (CPHCE) at the University of NSW.
In the US, the role of primary care had become under-appreciated, under-supported and under-resourced, resulting not only a dearth of medical students choosing to become family physicians (or GPs), but an extremely high rate of burnout among doctors who did go into the specialty, he said.
Professor Grumbach said studies showed that for a GP to do all the necessary preventive care for their patients would take 7.4 hours a day, and to deliver the recommended chronic care services would take an additional 10.6 hours – meaning they needed to spend 18 hours a day to adequately care for their patients.
A new model of care
"The 20th Century model of primary care was not working in the 21st century. The model needed to change," he said.
Under the US Affordable Care Act, a model called the Patient-Centred Medical Home (PCMH) was adopted, under which patients are enrolled or "empanelled" with a primary care practice, which co-ordinates their care. The practice receives a payment per enrolled patient, which helps them to employ a team of health professionals to provide comprehensive care that is suited to their particular community.
Professor Grumbach said the central elements of the model are:
A change in way primary care is funded from a fee-for-service model to blended payments
The introduction of a team approach to providing care
A patient-centred approach
A population-centred approach, meaning doctors are proactive in identifying and providing care to all patients who need it within their population.
"It is a more expensive model of primary care," Professor Grumbach admitted. "The question is whether that investment in primary care is returned through reductions in other costs."
He said the answer appeared to be 'yes', with a recently published review of evidence on the impact of patient-centred medial homes on cost and quality showing that in 21 of 23 studies that reported on cost measures, there were reductions in one or more cost measures, while 23 out of the 25 studies that reported on measures of healthcare use showed reductions in one or more heatlhcare use measures.
"A community laboratory"
Once patient-centred medical homes were established, networks of such "homes" could serve as data laboratories, or real-world "community laboratories", to aggregate data that could be used to improve both practice and population health, Associate Professor Jennifer DeVoe told the symposium.
Professor DeVoe, a family physician and service researcher at Oregon Health and Science University, said the PCMH model had enabled the establishment not just of "medical homes" but of a "village" of practices to share resources and data.
She described how the PCMH model had enabled the establishment of a collaborative, practice-based research network called OCHIN, which was now linking data from the electronic patient records of one million patients who were enrolled with 300 primary care sites across 18 states in the US – most of which served vulnerable patient populations.
The network had enabled researchers to study variability in the quality of care provided by different practices, with the top performing practices then used as models or mentors for lower performing practices, she said.
Australian support for the model
Australia is moving down the path towards the PCMH, the symposium heard, with a number of primary care reform projects already underway in NSW using principles of the patient-centred medical home, including Western NSW Local Health District  – one of three demonstrator sites for the NSW Integrated Care Strategy.
Dr Liz Marles, former president of the Royal Australian College of General Practitioners (RACGP), told the symposium that all the major Australian GP bodies had endorsed the PCMH model, but the way primary care was currently funded in Australia would need to change for the model to be adopted.
"There is a consensus that we want to move to a more blended payment model. I think things are going to change fairly quickly," she said.
A system of voluntary patient enrolment with practices would also be vital for the  PCMH model to be adopted here,  she said.
Find out more