This profile of Dr Faisal Saeed appears in the May HARC e-Bulletin, a monthly publication produced by the Sax Institute for the Hospital Alliance for Research Collaboration. Dr Saeed will address a seminar hosted by the Australian Institute of Health Innovation on 8 June.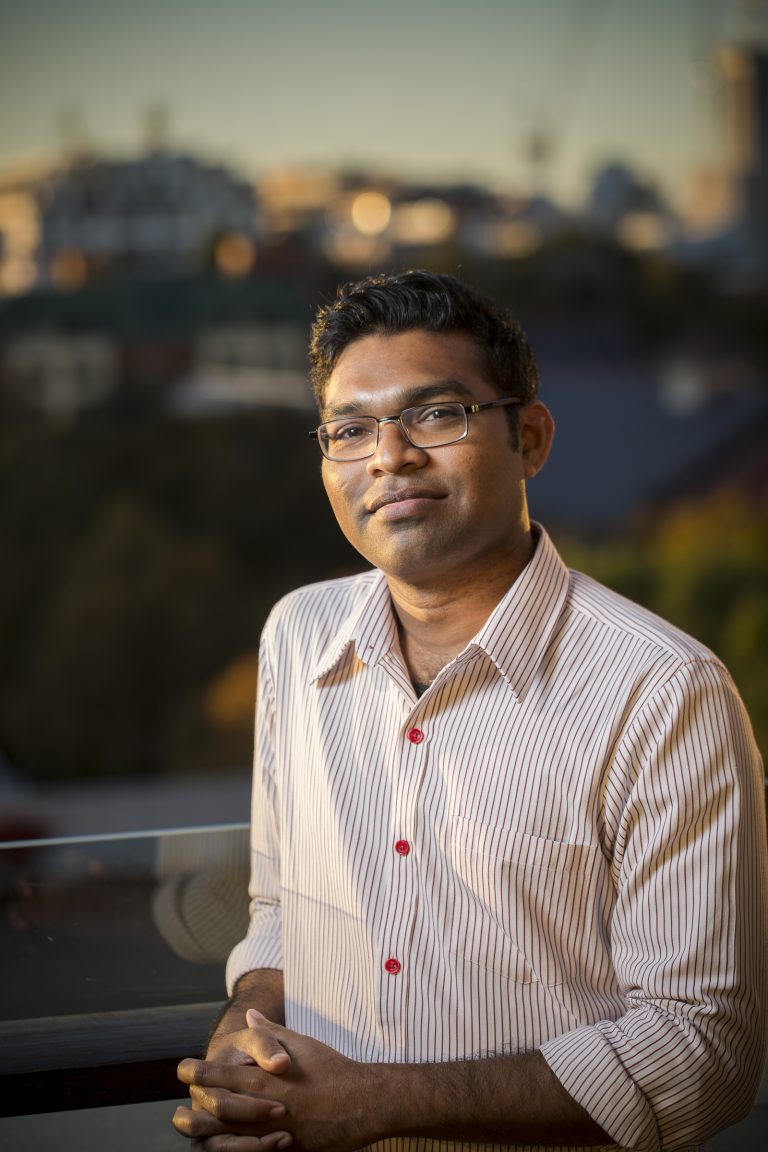 Two years ago, Dr Faisal Saeed climbed the 284 steps of the Arc de Triomphe in Paris carrying a placard which read: "I PLEDGE to spark a revolution in the Maldives Healthcare".
It was a personal pledge, made at the 2014 International Forum for Safety and Quality in Healthcare in Paris, that has seen Dr Saeed travel worldwide in a bid to bring safe and quality healthcare to the people of his homeland.
A vast vacuum
Having studied medicine in Nepal on a WHO/Government of Maldives scholarship, he returned to the Maldives to work as a GP in 2007, but says he began to realise that the country's health professionals were working in a "vast vacuum" in terms of a lack of treatment standards and guidelines or a proper regulatory framework.
"Compounded with the inadequacy of treatment resources and the scattered geography which prevented people getting timely access to care, this meant that patients weren't being provided with the safe and quality care they were entitled to," Dr Saeed says.
He began working in the Maldives Ministry of Health in healthcare regulation, but felt that his voice on the need to place patients and their safety first was largely ignored in a system where the medical fraternity was dominated by those content with the status quo.
Building capacity for change
Deciding he needed to build his own capacity to create change, he won a law scholarship from the University of Liverpool, UK, and undertook a Master of Laws in healthcare law, before returning to work as the lead for clinical governance, risk management, patient safety and quality improvement at ADK Hospital, the largest private hospital in the Maldives.
"But it wasn't (and still isn't) easy, especially when you are a lone voice advocating for a transformational change in the health system," Dr Saeed admits.
Soon after he made his pledge in Paris, a Scottish delegation at the forum offered to provide him with a bespoke training program through Healthcare Improvement Scotland, based around quality improvement patient safety. He became a certificated change agent after graduation from the School for Health and Care Radicals, NHS.
From pledge to action
The pledge led to an invitation from the Centre for Quality in the Southern Region of Denmark, where he spent a month as a visiting researcher in 2015, learning about the Scandinavian health system. He says his experiences from developed healthcare systems, together with learning through an International Society for Quality (ISQua) Fellowship program, enabled him to move from pledge to action back in the Maldives
"At ADK Hospital, we now have a good governance and quality framework, have a cohort of patient safety nurses, actively listen to and act on patient concerns, have removed restrictions around visiting hours, are honest and open when things go wrong, publicly display our adverse event rates, and have an early warning score in place to detect and act on sudden patient deterioration," he says.
Seeking answers at the ACI
However, Dr Saeed says talking about putting the patient first remained almost taboo in the Maldives, and he still had questions about how to transform cultures and get clinicians and patients engaged in that transformation journey.
"When I was awarded a four-month Endeavour Executive Fellowship by the Australian Government, I looked to the ACI for those answers," he says.
Since February, he has been working on Agency for Clinical Innovation's Patient Reported Measures project to develop a training module to incorporate patient reported measures in the clinical setting.
Dr Saeed says his work at ACI, together with exposure to various health systems, has taught him that patients, irrespective of which country they are from, want similar things: to be treated with dignity and respect, to be listened to and to feel safe.
"There is clearly room for health system improvement, if not reform, and I believe that putting patient experiences at the centre to create outcomes which matter to patients is the road ahead," he says, adding that he is yet to decide on his next career move.
"I am eagerly looking forward to wherever that road may lead me to."
Find out more