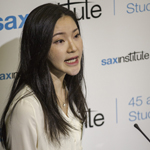 Chinese researchers gained insights into Australia's largest cohort study on healthy ageing, the 45 and Up Study, when Dr Joanna Wang presented her new research into survey non-responders at Peking University in Beijing late last year.
Dr Wang, a Research Fellow in Biostatistics with the Sax Institute's Analysis for Policy Program, and Australian Research Council Centre of Excellence (ACEMS) for Mathematical and Statistical Frontiers at the University of Technology Sydney, said she was applying her statistical knowledge to compelling, real-world problems, by working with the 45 and Up Study.
Her presentation to Peking University's School of Mathematics and Statistics focused on new research she has conducted into "missing data" from the Study.
Missing data
Because of the Study's large cohort – more than 250,000 people ‒ she said it was important to consider whether Study outcomes were impacted in any way by "non-responders" – the proportion of participants who did not respond to follow-up questionnaires.
"We don't have information on non-responders – we don't know why they don't respond," she said.
Such missing data was an issue commonly faced by all cross-sectional and longitudinal studies, administrative data in medical and health research and survey data in social science research, she said.
"Missing data in such studies and surveys could potentially result in bias or incorrect inferences and conclusions," she said. "You will always get non-responders – it's a matter of whether that has a significant impact the study conclusions."
Dr Wang showed how a statistical model could be used to assess the impact of such non-responses to 45 and Up Study questionnaires by focusing on two of the many variables covered by the Study: housing and workforce participation.
Robust results
While she found that participants who moved house were three times less likely to respond to follow up as those who didn't move house, her analysis confirmed that the missing data did not, in general, bias or influence the Study outcomes.
"We can use this information about non-responders to come up with strategies to encourage survey participation," she said. "But it can also show us the validity of outcomes."
"We want the results to be robust, and looking at both housing transition and workforce participation, we have now shown that our results are robust".
Find out more