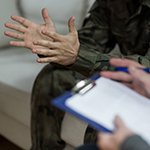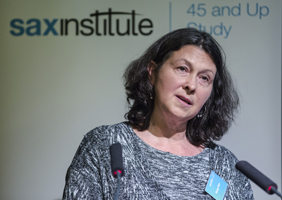 The long-term health and wellbeing of frontline emergency and defence force personnel is an area into which Sax Institute's 45 and Up Study could offer rich insights, according to Study Director Margo Barr.
Ms Barr was speaking at the recent  2016 Australasian Services Care Network Tri-National Symposium in Adelaide on the potential for the study of healthy ageing – which includes 260,000 NSW residents aged over 45 years – to provide long-term data on the health of such workers.
The symposium brought together key decision makers and thought leaders with expertise in healthcare and human services from Australia, New Zealand, Canada, the UK, the US and the Netherlands to explore the issues impacting the health and wellbeing of defence and other frontline emergency personnel.
Study reach
Ms Barr told the conference that targeted questions about whether 45 and Up Study participants had served in the Australian Defence Forces (ADF) and about what health services they accessed were included in the Study's follow up questionnaire from 2014 on behalf of the Department of Veterans' Affairs (DVA).
The 2014 results found that about 8% of the participants  had served in the ADF, however only 3% were currently clients of the DVA.
International studies had revealed practical difficulties faced by ex-service personnel included difficulties getting around outside and inside home, feeling depressed, exhaustion/pain, loneliness, poor bladder control and financial difficulties, she said.
The Study, which is a collaborative resource available for use by both researchers and policy makers, had the potential to provide similar Australian data comparing the health of those who had served with that of the general population.
Preliminary analysis of the Study's data suggested people who had served in the ADF may have higher rates of heart conditions, cancer, diabetes, hearing difficulty and alcohol problems than the general population.
Early intervention
Ms Barr said while some data was available about the health of service personnel via sources such as the Department of Veterans Affairs, the conference heard that many defence force personnel do not apply for or access such services until they are very sick.
"The focus is on how we can get information on the health and wellbeing of these people, before they become very unwell," she said. "The 45 and Up Study  ‒ which has linkages to a wide range of other datasets ‒ could be used to explore how different they are to the population as a whole and may provide insights into how we could intervene early to address those problems."
She told the conference the Study, could be used in the same way to examine the health and wellbeing of other frontline emergency workers such as paramedics and police,  with the addition of targeted questions to identify them in the dataset.
Find out more