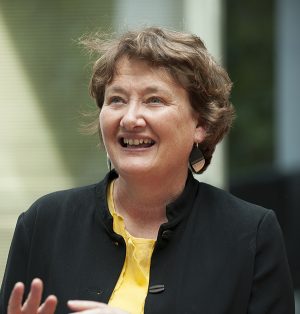 Sax Institute CEO Professor Sally Redman has been recognised for her exceptional contribution to the work of the Heart Foundation, winning the special President's Award at the recent State of the Heart Showcase in Sydney.
Professor Redman is the outgoing Chair of the Heart Foundation's Research Committee and the Foundation said her expertise and guidance had been invaluable as the research program evolved. She has also contributed to the Heart Foundation over many years as Chair and member of the Research Committee and as a member of Cardio Vascular Health Advisory Committee.
Speaking after the ceremony, Professor Redman said she was humbled by the award.
"It has been an honour and a pleasure to Chair the Heart Foundation's Research Committee, getting to work with so many talented researchers and getting to understand just what a difference they are making to families in NSW, Australia and beyond," she said.
"Heart disease research is full of passionate, intelligent and driven professionals, who want to make a real difference. By working with these researchers, the Foundation and its staff are driving real and exciting change."
Award-winning research
Professor Redman was one of several leading researchers recognised at the NSW Cardiovascular Research Network (CVRN) State of the Heart Showcase. The event acknowledges the contribution of CVRN members to cardiovascular research in NSW, and highlights some innovative research projects currently in progress.
This year's event focused on heart failure, a condition currently affecting around 300,000 Australians, and which is on the rise, with an estimated 30,000 new cases diagnosed each year.
NSW Minister for Medical Research Pru Goward presented the following researchers with awards:
Dr Melody Ding, University of Sydney – 2016 Collaborative Project Grant for 'Neighbourhood environment and cardiovascular health: An interdisciplinary analysis of linked environmental data'. This project will use data from the Sax Institute's 45 and Up Study
Associate Professor Mitch Duncan, University of Newcastle – Improving understanding of sleep, physical activity & diet as CVD risk factors
Professor Elizabeth Sullivan, University of Technology Sydney − 2016 Women and Heart Disease Grant for the NSW longitudinal study of first-time mothers with heart disease and their babies
Professor Robert Graham, Victor Chang Cardiac Research Institute − 2016 Ministerial Award for Cardiovascular Research Excellence for outstanding dedication and achievements as one of NSW's most gifted senior researchers and clinicians in cardiovascular disease
Dr John O'Sullivan, Heart Research Institute − 2016 Ministerial Award for Rising Stars in Cardiovascular Research, for demonstrating outstanding academic and research excellence in cardiovascular disease and related disciplines.
The power of collaboration
Heart Foundation NSW Chief Executive Kerry Doyle said there was great power in supporting collaboration between researchers.
"The NSW CVRN is vital in optimising our research capabilities by pooling research knowledge, resources and nurturing and retaining talent, particularly rising talent, in our State," she said.
"In NSW, we have some of the most innovative and outstanding researchers who are tackling cardiovascular disease head-on. We are actively supporting them to realise their full potential and ultimately, deliver breakthrough research and substantive health outcomes."
Guest speaker Dr James Chong, a cardiologist at Westmead Hospital, said that due to the non-specific nature of the symptoms, and the fact that patients often present with other cardiovascular conditions, heart failure is underdiagnosed and somewhat poorly treated in relation to other conditions.
"Heart failure rates are increasing exponentially in Australia and worldwide, and one in two people with advanced heart failure die within a year of diagnosis. This burden of heart failure is underpinned by the heart's limited capacity for self-repair after injury," he said.
Find out more: