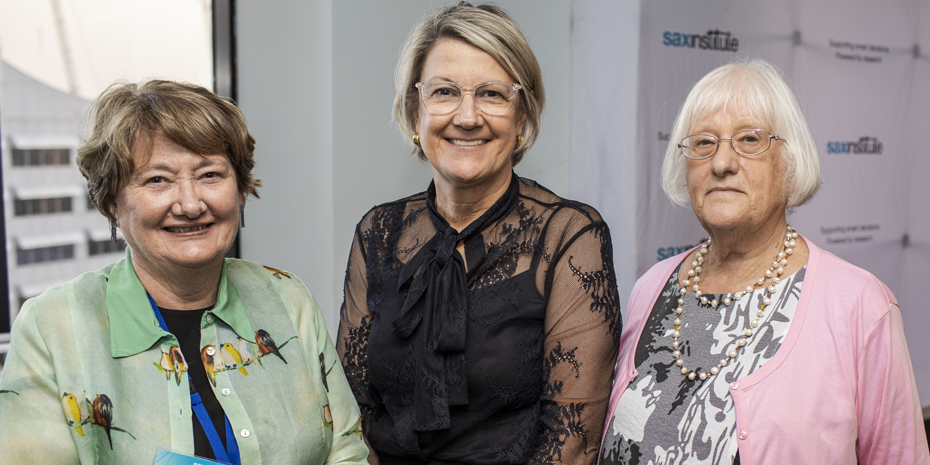 The Sax Institute pays tribute to the life and achievements of Professor Dame Valerie Beral, who has sadly passed away in the UK after a stellar career that marked her out as a global authority on longitudinal cohort studies and whose research made life-changing differences to millions of women worldwide.
Born in Sydney in 1946, Dame Valerie graduated with a first-class medical degree from the University of Sydney before migrating to the United Kingdom, where she studied epidemiology. A pioneer of her field, Dame Valerie demonstrated that oral contraceptives were safe for women, and later founded the UK's groundbreaking Million Women Study, which led to changed advice on managing health risks associated with hormone replacement therapy, among its many other impacts.
Dame Valerie was a highly respected scientist and a very generous leader and colleague. The Sax Institute greatly benefitted from her generosity and expertise as she played a critical role in setting up and then providing ongoing support for the Institute's 45 and Up Study, Australia's largest ongoing study of health and ageing. As an original member of the Steering Group that oversaw the initial development of the Study, Dame Valerie brought her considerable experience and insight to bear on its design as a long-term, collaborative resource for public health research.
"We are immensely saddened by the passing of Dame Valerie Beral," says Sax Institute CEO Professor Sally Redman.
"It was Valerie who originally suggested that the Institute could establish a large cohort for collaborative research, modelled on her Million Women Study in the UK. I remember feeling speechless at this suggestion as it seemed so ambitious for such a new organisation. Valerie scoped out for me how it could be done and how much it would cost literally on the back of an envelope. And then she introduced me to Emily Banks as someone who could design such a cohort. Suddenly, what had seemed impossible seemed doable."
Professor Emily Banks, who studied under Dame Valerie at Oxford and was the 45 and Up Study's first Director, says Dame Valerie had long been convinced of the value of a large-scale study in Australia that could provide local data to answer pressing questions of public health importance.
"We now take for granted these large cohort studies which can harness huge amounts of data to provide very rapid answers to public health questions in a way that smaller studies can't. But before the 45 and Up Study, the largest cohort study in Australia had only 40,000 participants – compared with the more than quarter of a million people we eventually enrolled. Valerie was a true inspiration for this leap forward in public health research."
Over the years, Dame Valerie continued to support the work of the Institute and the 45 and Up Study in many different ways.
"I remember her presentation at an early 45 and Up Study Forum where she tracked our progress in setting up and publishing from the Study. She demonstrated how quickly we were travelling in contrast to similar endeavours and gave us all heart at a point where we were all feeling that the effort of establishing the Study might overwhelm us. I met with Valerie every year and she always knew a lot about what was happening with 45 and Up and had very wise advice about where we needed to focus," says Professor Redman.
Dame Valerie was also closely involved in training and mentoring the next generation of public health researchers in Australia, particularly young women, many of whom have gone on to do important work using data from the 45 and Up Study.
"She brought people together, understood how the work could be done and supported the people doing it," says Professor Banks.
"She was a guiding light – if you ever had any issue with the Study, you could always ask her advice. Essentially, the Study wouldn't have existed without her."
Dame Valerie is survived by her husband Paul Fine, also an epidemiologist, her sons Richard and Stephen and two grandchildren.