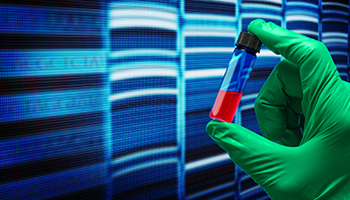 Researchers can now apply for $2.46 million in grants from the NSW Genomics Collaborative Grants Program to undertake ground-breaking human genomic medicine research using biospecimens from the 45 and Up Study.
About 2000 blood samples from healthy 45 and Up Study participants are being sequenced in collaboration with the Garvan Institute's Kinghorn Centre for Clinical Genomics, and form part of the Medical Genome Reference Bank (MGRB) , a database of healthy genomes that will act as a filter to enable researchers to identify genetic variants linked to disease.
NSW Health Minister Jillian Skinner last week announced the launch of the MGRB, including an online data portal (available at sgc.garvan.org.au) and the first 1200 genome sequences which can be accessed by researchers.
Existing and new biospecimens
The 2017  Genomics Collaborative Grants funding round announced by the Office for Health and Medical Research gives researchers the first opportunity to undertake research using either the existing Study specimens, including those where the genome has already been sequenced, or new biospecimens to be collected from Study participants where the collection is funded by another body.
Sax Institute Deputy CEO Robert Wells said the use of the cohort to look at genetic aspects of disease and ageing would further strengthen the value of Australia's largest ongoing study of healthy ageing.
Adding to the Study's value
"The 45 and Up Study is already a strong database for researchers to draw on because there are a quarter of a million people in the cohort. Collecting more samples and more information from those participants, including through genome sequencing, will make it even more valuable," Mr Wells said.
"Opening the door for researchers to look at how lifestyle, environment and genes interact to cause disease adds a whole new dimension to the Study and could lead to opportunities for disease prevention, early detection and treatment."
Researcher consultation with the Sax Institute regarding any requirements for additional specimens will take place between December and February, and grant applications close on Monday, 6 March 2017.
Find out more