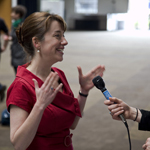 This World No Tobacco Day, Australia's plain packaging legislation is in the spotlight as the World Health Organization highlights the role of plain packaging as part of a comprehensive, multisectoral approach to tobacco control.
In addition to the important role played by plain packaging, findings from cohort studies such as the Sax Institute's 45 and Up Study are helping inform a broad range of government policies and public health initiatives on tobacco control across the country.
Crunching the numbers
When she began investigating smoking and mortality through the large-scale data resource of the 45 and Up Study, Professor Emily Banks got a few quizzical looks.
"People said: Why would you research that? We know smoking's bad for you − it says it on the packet," says Professor Banks, Scientific Director of the 45 and Up Study.
But the findings revealed the health risks were even greater than previously thought.
The four-year analysis of health outcomes from more than 200,000 of Study participants showed that up to 1.8 million of Australia's 2.7 million smokers – or two in every three – will die from their habit if they continue to smoke.
Evidence to inform tobacco control
Those findings have fed into anti-smoking advertising, been included in recommendations by Federal, State and Territory health Departments, helped inform tobacco divestment initiatives and been used by smoking cessation services.
Professor Banks told the recent Australian Longitudinal Study on Women's Health conference the widespread impact was due to the strength of the findings, as well as the fact that they came as part of a broader, longer effort in tobacco control, there was early consultation about the research with key players in tobacco control, and a media campaign saw the findings disseminated internationally.
Impacting tobacco divestment
One person who is using the results on a daily basis is radiation oncologist Dr Bronwyn King who, as well as her clinical work, is the Founder and CEO of Tobacco Free Portfolios, a not‑for‑profit working collaboratively with financial institutions to encourage tobacco-free investment.
"It's brilliant to be able to back up my work with such robust research – those statistics have profound impact," Dr King told the Sax Institute.
"Disseminating Professor Banks' findings amongst leaders in health, politics and finance helps the entire community strengthen its resolve to accelerate comprehensive and innovative tobacco control."
About World No Tobacco Day
Every year, on 31 May, WHO and partners mark World No Tobacco Day, highlighting the health risks associated with tobacco use and advocating for effective policies to reduce tobacco consumption.
More about this campaign can be found on the WHO website.
Find out more