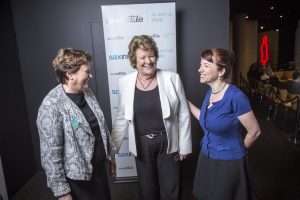 The Sax Institute's 45 and Up Study has proven to be a "truly valuable tool" to help address health priorities in NSW and nationally, prompting "cohort envy" from other states,  NSW Health Minister Jillian Skinner says.
Opening the Study's 13th annual Collaborator's Meeting in Sydney this month, Mrs Skinner said the NSW Government's ongoing support of the Study was a part of its recognition of the value of research to inform health policy and programs.
"I think this is an absolutely brilliant program," she said. "I have personally watched with much interest the growth of this investment. It is crucial to help us better understand how people are ageing and how they are using health services and how this information can guide decisions on our health system."
Growth of data linkage
Mrs Skinner said the linkage of the 45 and Up Study and a wide range of other datasets with the support of CHeReL (Centre for Health REcord Linkage) had resulted in the publication of research using linked data in NSW growing at a rate unmatched by other Australian states.
"Other states are cohort envious," she said.
Study scientific director Professor Emily Banks agreed: "It's absolutely true that other states have cohort envy," she said. "NSW is forging head with linkage and the 45 and Up Study has been identified as a key enabler that provides an interesting and rich layer of data about the people of NSW and a facility for researchers to engage."
Professor Banks said data from the Study could now be linked to other datasets including 69 million Medicare records, 54 million pharmaceutical records, two million hospital separations and 24,000 deaths.
"It is becoming a very substantial resource indeed," she added.
Study reach
She said the use, reach and impact of the 45 and Up Study continued to grow, with the latest figures showing:
132 research projects have used the Study's data
650 researchers from 84 organisations have used it
192 peer-reviewed papers have been published
There is an average of one publication per week from the Study
Sax Institute CEO Professor Sally Redman said the Study's value continued to grow, thanks to the ongoing collection of follow-up data from participants and new collaborations.
"We are starting to get long-term longitudinal data that will really add to the richness of the Study," she said.
Under a collaboration with the Garvan Institute, she said blood samples from Study participants were now being provided to the new Medical Genome Reference Bank, which is sequencing the  genomes of 4000 healthy elderly Australians, to act as a control group enabling researchers to study genetic variants linked to chronic diseases.
A diverse range of research into health and health services using the Study was showcased at the meeting including presentations on:
Whether the risk of diabetes associated with being overweight or obese can be offset by physical activity
Potential savings to government from the prevention of lifestyle-related illness and risks among the working population
A case study in Central and Eastern Sydney on the transition of healthcare from hospital to community settings
Psychological distress in ischaemic heart disease, in diabetes and in relation to fruit and vegetable consumption
Pathways to lung cancer diagnoses
Find out more