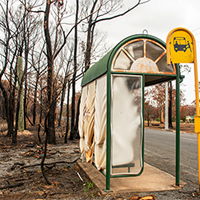 After one of the worst bushfire seasons in the country's history, Australia is in recovery mode.
But healing affected communities is a complicated business, and a Sax Institute Evidence Check conducted after the devastating 2009 Black Saturday bushfires provides some clear pointers about the approaches most likely to speed social recovery.
The Evidence Check was commissioned by the Victorian Government in 2009, and the findings are just as relevant today for understanding the trauma of bushfire, the resources needed for recovery, and which initiatives help, rather than harm a community.
Drawing on literature from past Australian bushfires and international disasters, here's what the Sax Institute's Evidence Check found:
The expected impact of fires on health is long and complex
After a bushfire there are increased mental health problems and prolonged stress over a long period. People experience feelings of panic and anxiety, phobias, sleeplessness, headaches, isolation and withdrawal.
These symptoms are often worse among people with lower social economic status, migrants and marginalised ethnic groups, the old, the young and women.
Some people's networks will have been severely debilitated by the fire and so the crucial role of social support in recovery (e.g, providing information, emotional support and practical help) will be compromised.
What does (and doesn't) work in community recovery
A popular technique known as "psychological debriefing" was shown to be ineffective and even possibly harmful because it relives trauma.
Instead the review notes five essential principles of successful recovery: safety, calming, hope, connectedness, and self and collective efficacy (for example, having the confidence, power, and capacity to get life back together).
In addition, strategies should plan for "community" as an entity itself, as well as the more traditional focus on the "victims", "survivors" and service providers.
Community-based recovery strategies work when they:
Involve communities in all aspects of decision making
Provide resources so that community members have the time to take part
Recognise that different people will be at different stages and that decisions about domestic reconstruction involve grief and take time
Recognise that strong communities are diverse in their activities, opportunities, and people
Restore diverse cultural roles and activities (play is as important as work)
Consciously create and build resources for recovery, be these physical, economic, social, psychological or spiritual
Put in place continuous research-feedback-action loops to monitor progress and ensure all parts of the community are reached.
What this tells us is that recovery should be about betterment, not just replacement of what is lost, and that community-led processes tend to have greater impact than interventions that focus simply on individual health behaviours or risks.
People naturally look for support in different ways for different reasons. But as the government now embarks on a massive recovery effort, it's more important than ever that we use the evidence of past disasters to help our communities create a new future.
Read the full evidence check on Community recovery after the February 2009 Victorian bushfires here or discover our complete Evidence Check library here.