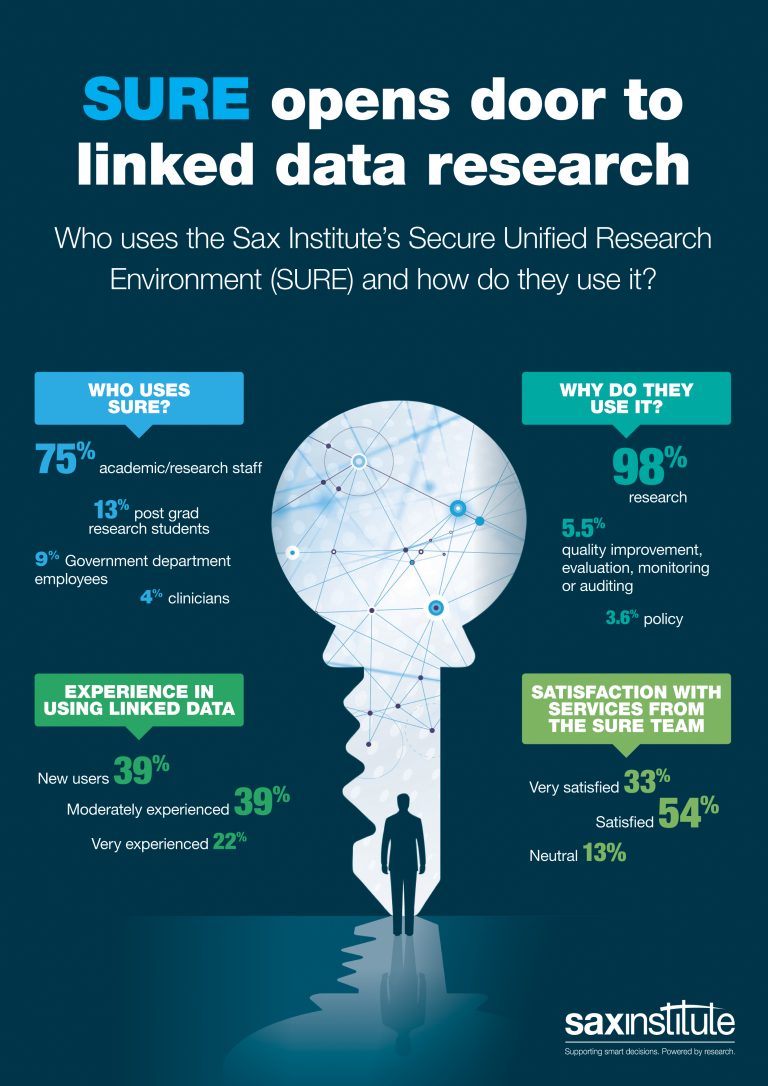 The Sax Institute's Secure Unified Research Environment (SURE) has received a stamp of approval from users, with a survey showing the vast majority are satisfied with the services provided by the SURE team, and many are using the platform to undertake research using linked datasets for the first time.
SURE is a purpose-built remote-access data research laboratory for analysing routinely collected data, which allows researchers to log in remotely and securely analyse data from sources such as Medicare, the Pharmaceutical Benefits Scheme (PBS), hospitals, and cancer registries.
There are now 13 different data custodian organisations from around Australia uploading data to SURE. And there are 180 researchers actively using the SURE for their work, with 72 active studies underway.
A survey of 55 SURE users recently conducted by the Sax Institute showed that 87% of users were satisfied or very satisfied with services provided by the SURE team, while 13% were neutral. No users were dissatisfied.
Most respondents said they used the platform for research purposes, and two in five said the remote laboratory was enabling them to undertake research using linked data for only the first or second time.
Nine in 10 users said they had been able to connect to SURE when they needed to without difficulty either completely or to some extent, while 80% said they had always received responses to queries from the SURE team in a timely manner.
What SURE users said
SURE users' comments about their experience included:
"Always quick to respond to emails and phone calls to troubleshoot issues"

"I never have any connection issues which is an absolute delight!"

"The team is very good at advising of technical problems and very responsive to support queries."
Sax Institute Research Assets Adviser Jo Khoo said the survey would help to ensure the growing research resource continued to meet users' needs.
"Use of SURE has grown considerably over the past 12 months and it's great to see that SURE is continuing to meet the needs of users."
SURE was established with funding from the Australian Government National Collaborative Research Infrastructure Strategy (NCRIS) as part of the Population Health Research Network (PHRN). The PHRN is a collaboration that was set up in 2009 to further develop Australia's data linkage capabilities.
Find out more