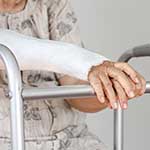 Researchers are using the Sax Institute's Secure Unified Research Environment (SURE) to shed light on factors that put older patients at risk of moving into residential aged care after they have sustained injuries that put them in hospital. And their results will help predict the future aged care services needs.
Study Chief Investigator Associate Professor Rebecca Mitchell, from the Australian Institute of Health Innovation at Macquarie University, said her research would analyse linked hospitalisation and aged care datasets and would focus on people aged 65 and over who were hospitalised with an injury, including people with and without dementia.
The research team was able to access three linked datasets through SURE – the NSW Admitted Patient data collection, the Commonwealth Residential Aged Care and the Aged Care Assessment Program data collections – in order to explore what characteristics and factors predicted whether people would return home after discharge, move into long-term residential aged care, or use short-term respite or transitional aged care services.
Efficiently analysing big population health data
SURE, designed, built and managed by the Sax Institute, is Australia's only secure online platform for efficiently analysing big population health data. The secure, shared collaboration space SURE provides means researchers can access and analyse sensitive data linked from government and non-government sources in ways that were not previously possible. Through the facility, researchers can log in remotely and securely analyse data from a range of sources no matter where they are located.
"Information in the hospitalisation data regarding where patients are discharged to, isn't always accurate, so the only way to address the gap in our knowledge was to link these data collections," Associate Professor Mitchell said.
"This is the first time this type of study has been done using a five year' period of data for these three data collections – so it's one of the largest studies of its kind."
A virtual workplace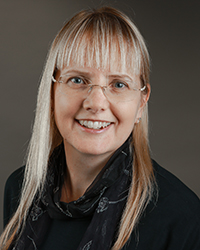 Associate Professor Mitchell said SURE enabled access to the Commonwealth data, as well allowing researchers in different sites to work on the same data.
"SURE is our virtual workplace," she said. "We are working on the data collections with colleagues at Neuroscience Research Australia at UNSW, so using SURE allows all researchers to have access to the same datasets at the same time."
Predicting future aged care needs
Findings from the study were recently published in Archives of Gerontology and Geriatrics, and revealed that older patients who were newly admitted to long-term residential aged care after being hospitalised with an injury were four times more likely to have dementia compared with those people who returned to the community.
The findings also showed that people with shoulder and upper arm injuries and knee and lower leg injuries were more likely to be admitted to transitional care than those with other types of injuries.
Associate Professor Mitchell said the project's findings would help predict the need for a range of future aged care services.
"I think the key is going to be to ensure we have variety of aged care services available to meet the needs of older people. It will be good to know what services are used, and what services are needed and how many people are going to need different options."
The research was also opening new doors in her career, she said. She was recently awarded a three-year NSW Health Early-Mid Career Fellowship, which she said would support her to continue with her research into aged care transitions.
SURE was established and is operated with funding from the Australian Government National Collaborative Research Infrastructure Strategy (NCRIS) as part of the Population Health Research Network (PHRN). The PHRN is a collaboration that was set up in 2009 to further develop Australia's data linkage capabilities.
Find out more