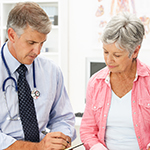 New research drawing on the Sax Institute's 45 and Up Study suggests that clinicians treating women with breast cancer should see every consultation as an opportunity to review their management of the disease, amid findings that many women quit protective endocrine therapy too early.
While clinical guidelines recommend that women with hormone-dependent primary breast cancer remain on endocrine therapy for at least five years, previous research shows that up to 60% discontinue the treatment early.
The case-control study, undertaken by researchers at the University of Western Australia's School of Population and Global Health which was published in the latest issue of Public Health Research & Practice, involved 261 women in the 45 and Up Study who were diagnosed with invasive primary breast cancer over a five-year period who commenced endocrine therapy but stopped taking it after 1−4 years, as shown by linked Cancer Registry and PBS (Pharmaceutical Benefits Scheme) data.
They were compared with women with primary breast cancer who did not discontinue endocrine therapy during follow-up.
By also linking the Study data to MBS (Medicare Benefits Scheme) records, the researchers looked at whether the women had consulted clinicians, or had investigations for cancer recurrence or metastasis at or around the time they stopped taking the medicines.
Findings on discontinuation of therapy
They found there was no evidence to suggest that early discontinuation of endocrine therapy was associated with recent clinical contact, or with investigations for cancer recurrence or metastasis, suggesting discontinuation was not due to clinical advice or results of current investigation.
Women who consulted GPs and surgeons or oncologists and those who had breast ultrasounds or mammograms were just as likely to stop taking endocrine therapy within 30 days as those who did not have such consultations or investigations.
While most women who discontinued the endocrine therapy early did continue to consult clinicians, especially GPs, after discontinuation, they were less likely to do so than women who continued the therapy.
GPs best placed to support women
"This emphasises the need for every clinical contact, including those where investigation of results are discussed, to be used as an opportunity for discussion with the patient about the importance of endocrine therapy for at least the first five years (as is recommended in current guidelines) or possibly longer," the researchers wrote.
They suggested GPs were probably the best placed to encourage and support women in continuing endocrine therapy, as 79% of women who discontinued endocrine therapy consulted their GP in the six months after they discontinued the medication. That was considerably higher than the proportion who consulted surgeons or oncologists.
"General practitioner contact is likely to be more regular and more frequent than specialist consultations, and therefore provides more opportunity to support endocrine therapy," they wrote.
The researchers noted that when women see a GP there may be other competing issues for care. They said there needed to be a mechanism to prompt clinicians to engage and motivate women to continue endocrine therapy at every visit, and to proactively follow-up patients on these therapies who had not had a recent consultation.
Consideration could also be given to involving pharmacists in supporting women to continue with pharmacotherapy, as they were involved in repeat dispending of medications, they suggested.
Find out more