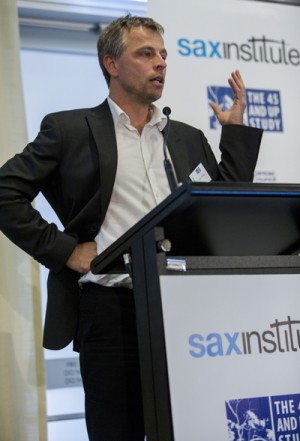 Latest news: 26 November 2015.
What does the genome of a healthy older Australian look like? This is the question that a new collaboration between the 45 and Up Study and the Garvan Institute of Medical Research is hoping to answer through a project to sequence the genomes of the "wellderly".
Head of the Garvan Institute's Kinghorn Centre for Clinical Genomics, Associate Professor Marcel Dinger, told the 45 and Up Study annual meeting that blood samples from about 2000 Study participants would be used to form part of the NSW Government-funded Medical Genome Reference Bank (MRGB).
The Bank, the largest public genome database in the world, will sequence a total of 4000–4500 genomes of individuals aged over 75 years, who are free of chronic diseases like cancer, cardiac and neurological diseases. The other participants would be drawn from the Aspree study (ASPirin in Reducing Events in the Elderly) at Monash University, he said.
Identifying genetic variants linked to disease
Given that in every individual, there were about 3.2 million variants and about 100 pathogenic variants, Associate Professor Dinger said the challenge was to identify which variants caused a patient's disorder or predisposed them to future disease risk, or could cause adverse drug reactions.
"The challenge is in discriminating between millions of benign variants and single pathogenic mutations," he said.
The sequencing of the genomes of the "wellderly" ‒ as he described the healthy, older participants in the project ‒ would enable researchers to identify what the genetic profiles of healthy older people looked like. That data could then be used as a "filter" to distinguish between normal genetic variation and variation caused by disease.
"The data contained in the Medical Genome Reference Bank will be an unparalleled resource that will vastly improve our understanding of healthy ageing and catalyse genomics studies seeking to identify the genetic basis of rare, inherited and more common diseases such as heart disease, diabetes, cancer and developmental disorders," Associate Professor Dinger said.
He said the project, due to be completed in 2018, would not only enable more accurate diagnosis and broaden the range of diseases that could be diagnosed by whole genome sequencing, but had immense research value where diagnoses were not immediately found.
The 45 and Up Study is managed by the Sax Institute in partnership with major partner Cancer Council NSW and partners: the National Heart Foundation of Australia (NSW Division); NSW Ministry of Health; NSW Government Family & Community Services – Carers, Ageing and Disability Inclusion; and the Australian Red Cross Blood Service.
Find out more