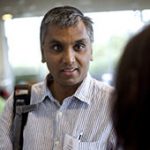 The SEARCH Study has received a prestigious award from the Royal Australasian College of Physicians (RACP) for a recent presentation about how it is translating knowledge into action and helping to close the gap in urban Aboriginal children's health.
SEARCH, the Study of Environment on Aboriginal Resilience and Child Health, was awarded the Rue Wright Memorial Award at the RACP Annual Congress held recently in Melbourne. The award is presented to a "fellow or trainee who demonstrates excellence in hypothesis, scientific merit and relevance to community child health in an oral presentation at the RACP Congress". It is named in honour of Dr Rue Wright, a  founder of The Australian Child Health Medical Association, the first Australian association of community child health doctors.
Dr Hasantha Gunasekera, program manager of HEALS – the Hearing, EAr health and speech and Language Services – and a paediatrician at The Children's Hospital at Westmead gave the presentation, titled "Research translation in urban Aboriginal Health: the SEARCH and HEALS model"on behalf of his co-authors Alison Purcell, Sue Woolfenden, Jonathan Craig and the SEARCH team.
The presentation
Award-winning research
He outlined how SEARCH had determined, for the first time, the scale of middle ear disease, speech, language and developmental risk among urban Aboriginal children. Based on the findings, NSW Health funded HEALS as a mechanism to address the identified need formore ear health, speech and language therapy services for urban Aboriginal children.
He said HEALS had broken down access barriers to provide ear health, speech and language interventions for these children, and was a model that could be expanded state-wide and across different conditions.
Dr Gunasekera said the award was recognition of an innovative program, which is having a huge impact:
It's a great honor for both SEARCH and HEALS – the Hearing, EAr health and speech and Language Services project – to be recognised for translating research into action by the RACP. With SEARCH we don't want to only describe problems, we want to be able to provide solutions. With HEALS we have been able to provide over 8000 speech and language sessions and ear, nose and throat surgeries since 2013, making a life-changing difference to nearly 1000 urban Aboriginal children and their families.

Dr Hasantha Gunasekera
Closing the Gap
SEARCH is Australia's largest long-term study of the health and wellbeing of urban Aboriginal children and is creating a long-term platform for closing the gap. It is an active partnership between Aboriginal Community Controlled Health Services and researchers, where these health services set the research priorities and guide how data is collected, interpreted and used.
The Study aims to better understand the causes of health and disease among urban Aboriginal children and their families by tracking their health and wellbeing over time, and to then use this information to drive real improvements in programs, services and health outcomes for urban Aboriginal people. Dr Gunasekera said that the collaborative approach of SEARCH and HEALS made a huge difference.
"With HEALS and SEARCH we have everyone pulling in the same direction – that makes a real difference when it comes to tackling such an entrenched problem like otitis media. We are working with NSW Health to make this program available to more Aboriginal children in the future."
The SEARCH partners are: The Aboriginal Health & Medical Research Council, the Sax Institute, leading researchers across Australian universities and four Aboriginal community controlled health services: Tharawal Aboriginal Corporation (Campbelltown), Awabakal Ltd (Newcastle), Riverina Medical and Dental Aboriginal Corporation (Wagga Wagga) and Aboriginal Medical Service Western Sydney (Mt Druitt).
 Find out more