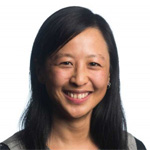 The Sax Institute's Senior Science Adviser, Dr Bette Liu, has been honoured with one of the National Health and Medical Research Council's (NHMRC) top prizes for excellence in health and medical research.
Dr Liu, a medically trained epidemiologist who is also a senior lecturer at The University of New South Wales, was one of 20 recipients in the NHMRC's Research Excellence Awards, which are presented to the top-ranked applicants across NHMRC's funding schemes.
Dr Liu was the highest ranked Career Development Fellowship (Population Health, Level 1) and received her award from Health Minister Peter Dutton at the NHMRC's 200th Council dinner.
"It is very very nice to have such recognition from your peers − having a Fellowship from the NHMRC is a privileged position to be in," Dr Liu said.
As part of her NHMRC Fellowship, Dr Liu is working on enhancements to data collection for the Sax Institute's 45 and Up Study. More than 250,000 people − one in 10 NSW men and women aged over 45 − are participating in the Study, which is the largest ongoing study of healthy ageing in the Southern Hemisphere.
Dr Liu is also using the Study to investigate infectious diseases in our ageing population.
"We are mainly looking at vaccine preventable diseases such as pertussis [whooping cough], influenza and herpes zoster [shingles]," she said.
"This is policy relevant because Australia is looking at introducing a vaccine for shingles – a condition that affects older people. We are looking at incidence, risk factors and complications and this information could be used to inform what we might do with vaccine strategies."
A number of other researchers from Sax Institute member universities were also named in the awards.
Professors Guy Marks, Lisa Maher and Katharina Gaus from UNSW, and Dr Nicholas Wood and Dr Justine Gatt from The University of Sydney featured in the top 20.