Sax Institute Research Action Award winner Associate Professor Kees van Gool is undertaking new research into the Medicare Safety Net, that he hopes can help inform the future design of social health insurance programs to ensure they are equitable and sustainable.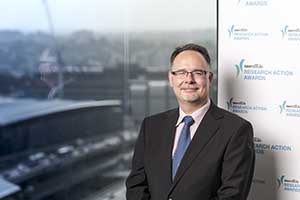 Associate Professor van Gool, Deputy Director of the Centre for Health Economics Research and Evaluation (CHERE) at the University of Technology Sydney, was honoured at the 2016 Research Action Awards in recognition of his research identifying major cost and equity issues with the Medicare Safety Net. His findings showed 20% of Australians living in the wealthiest areas received 55% of benefits and that 43 cents out of every safety net dollar was going towards increased doctor fees. They were key to the Australian Government introducing caps on certain Safety Net items in 2010.
The Research Action Awards celebrate researchers whose work has made a significant impact on health policy, programs or service delivery, and applications are now open for the 2017 Awards.
Shortly after the 2016 Awards, Associate Professor van Gool and colleagues were awarded a three-year Australian Research Council grant to re-examine the Safety Net Program and its impact on moral hazard, equity and welfare.
Research with broad implications
Associate Professor van Gool said there had been a number of major changes to the Medicare Safety Net in recent years, and the research project would look at longer-term data up to 2017, as well as exploring individual-level data for the first time.
"It will allow us to look at the personal impact of the Medical Safety Net in a far more refined way, and also to look at the impact of the major changes that have happened in recent years," he said.
He said the research should be of interest to policy makers, because it would have implications for the way social insurance was designed.
"We don't really know a lot about the way that we design social insurance such as Medicare or the PBS or the Safety Net," he said. "We don't know how people behave from the patient side, or from the doctors side, when there are changes to these insurance systems.

"I hope that lessons learnt from a new batch of research that is looking at individual-level implications will be far more generic, and allow researchers to develop better insurance research programs as well as being valuable for policy makers."
Drawing attention to researchers' work
Associate Professor van Gool said the Research Action Award had helped raise the profile of his research, and had led to him being approached by fellow academics interested in the research area, as well as the media to comment on health economics policy issues.
"The Research Action Awards are a fantastic way to showcase research and, importantly, recognise the efforts that researchers make for their work to have a meaningful impact on people's lives," he said.
Find out more