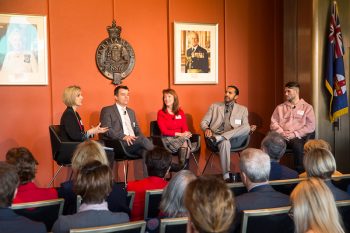 What can health researchers learn from the dating website OK Cupid (aside from whether other people find them attractive)? Quite a lot, according to the Sax Institute's Professor Emily Banks.
The Scientific Director of the Sax Institute's Research Assets Division, Prof Banks told a recent Research Australia discussion panel that dating websites such as OK Cupid provided a lesson in how to use data to feed back actionable information to consumers – a technique the health system would do well to copy.
The panel at NSW Parliament House, organised by Research Australia as part of its inaugural 'Speaker Series' and chaired by ABC TV national health reporter Sophie Scott, discussed the topic 'Is NSW ready to harness the transformative power of data in health and medical research'. Other panellists were Dr Jean-Frédéric Levesque (CEO of the NSW Agency for Clinical Innovation), Dr Avi Ratnanesan (CEO of Energesse), and patient advocate Harry Iles-Mann.
Professor Banks said medical practice "was largely ineffective until we learned to count", as the gathering of scientific data created evidence that showed which treatments worked and which, such as bloodletting, didn't. But she said technological innovation was now leading to the gathering of very large data sets, which were creating the potential for actionable information to be fed directly back to consumers – which is where OK Cupid comes in.
Prof Banks told the meeting that OK Cupid fed back data to consumers on how best to find love, including tips to users about the types of photographs most likely to appeal to the opposite sex (hint: men, photograph yourselves outdoors, maybe with animals, looking away from the camera; women, the indoor shots work better for you).
"We need health data systems in health that put the needs of the user at the centre," Prof Banks said after the event.
"The health system does a large amount of research, but there's a disconnect about how that gets to consumers."
Prof Banks told the meeting about the Sax Institute's 45 and Up Study, the largest in the Southern Hemisphere, which the Institute plans to develop by collecting blood samples for nearly one-quarter of its 260,000 participants. "It means citizens can use their data to answer questions that matter most to them. It's not as if the data person is over on one side, and 'ordinary people' are on the other side – it's all part of the same system."
Dr Levesque said traditionally, health data had been collected to assist in administering health systems, rather than for the purpose of improving individual patient health.
"We have increasingly now data that are created through electronic medical records, and we are increasingly embedding patient-reported measures. That's creating new forms of dataset that we need to start to understand how to harness."