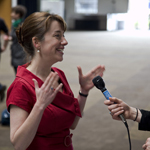 Increasing the use of research in policy making and practice involves much more than making evidence available – it must recognise the complexities of devising and rolling out policy, the Sax Institute's Professor Emily Banks told a research forum in Sydney.
In her keynote address to the Primary Health Care Research Conference in July, Professor Banks discussed ways to improve the likelihood and effectiveness of using research. This meant acknowledging policy and practice development were as complex as the research itself, she said.
"We acknowledge that policy and practice should be evidence based, but there's a lot of evidence this isn't happening in the real world,'' she said.
"Fifty to 60% of care for specific conditions is in accordance to various guidelines – the rest is not."
Influencing policy makers
Professor Banks highlighted the importance of using evidence to influence policy makers, but stressed research findings were only one part of the equation. Research questions that addressed policy imperatives should be prioritised and policy makers and practitioners should also be engaged throughout the research process.
''We are not targeting research to areas of greatest policy and practice need,'' she said.
Building partnerships with policy and practice agencies was also essential to getting health messages based on research across. And research findings also needed to be presented in ways that were relevant to policy makers.
"I think primary care needs to be a force in defining research translation,'' she said.
Triumphs in implementation
An example of the effective use of research in policy and practice was Australia's low death rate, which is second only to Iceland, Professor Banks said. The main driver was plummeting cardiovascular disease death rates thanks to measures being implemented across the health system.
"This triumph has taken slow, incremental, consistent efforts and putting things into practice. It meant getting as many people possible screened for hypertension, dealing with lipids, and dealing with smoking."
Time to compete
Primary care needed to "get in there" and compete for resources, she argued.
"We need to practise partnerships and we need research initiated within primary care. "We particularly need existing infrastructure, such as data from the 45 and Up Study. And we need to recognise our achievements and the importance of impact, especially in policy, practice and outcomes."