The inexorable rise of the podcast in the media landscape is such that you can now even listen to a podcast on the rise of podcasting if you want. Popular interest in the audio format has been fuelled in particular by 'true crime' podcasts, such as the ABC's Unravel series. But can it also be a useful tool in more niche areas, such as health and public policy?
Podcast consultant and former ABC journalist Gretchen Miller says the answer to that question is an emphatic 'yes'. Gretchen hosts Prevention Works, a series of podcasts for The Australian Prevention Partnership Centre (administered by the Sax Institute) which brings together some of Australia's top public health researchers and policy makers to talk about finding new ways of addressing the challenge of lifestyle-related chronic disease.
"Podcasting is an incredibly useful way to discuss issues in an accessible and conversational way. It's about getting information across to a select group of people: narrowcasting rather than broadcasting. Unlike in broadcast radio, your podcast audience is actually choosing to listen, rather than just hearing something in the background. And that means that the impact is greater," Gretchen says.
She notes that academic papers on research and policy can often be dry and unengaging, whereas podcasts are an invitation towards a more personal involvement.
"When you hear two people talking, it's so much more engaging than reading something on a piece of paper: you feel invited into the conversation," Gretchen says.
"If you can get policy makers listening to a researcher talking about what drives them and what their passion is, and a presenter putting that research into a real-world context, that invites a more visceral response to the research. You'll get a better 'buy-in' from the policy makers."
Being involved in the Prevention Works podcast series – which covers a diverse range of topics from maternal and child obesity to using the law to improve health or the pandemic of diabetes in pregnancy – was a fascinating experience, Gretchen says.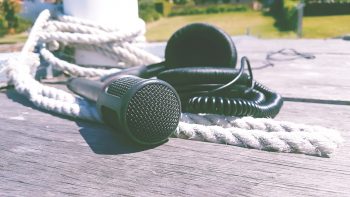 "I was interested in all the Prevention Works episodes I did, but one that felt particularly poignant to me was the podcast on how mental illness puts you at risk of chronic disease. People who have chronic mental illness are so often overlooked in our society."
Gretchen also singles out the podcast on improving access to healthy food in urban Aboriginal communities.
"You assume that just because people live in a city they have access to everything but it's just not the case in many Aboriginal communities. The quality of food available to them is often appalling, and it's a gross inequity that is slid under the carpet," Gretchen says.
Go here to download or listen to these and all other Prevention Works podcast episodes. Or you can subscribe to the series on iTunes here.