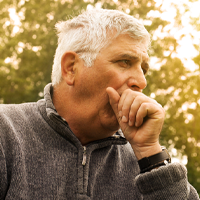 While whooping cough is mostly seen as a danger to babies and young children, new research based on the 45 and Up Study has found that older people are accessing whooping cough treatment at much higher levels than expected, suggesting further preventative measures may be needed for over 65s.
---
Research snapshot
Australians aged over 65 seek much more treatment for whooping cough than previously realised
Findings reveal how whooping cough-related healthcare changes as we age
Further preventive measures may be needed to help older Australians at risk
---
Researchers tracked over 260,000 NSW adults participating in the Sax Institute's 45 and Up Study, and found 1,222 confirmed cases of whooping cough (or pertussis), with the average age of cases hitting at 64 years old.
Whooping cough is an infection of the upper respiratory tract that gets its name from the whooping gasps a person makes between bouts of coughing. While vaccination is the best way to prevent whooping cough, immunity wanes with time.
Young babies are most at risk of whooping cough complications, which has led to the condition typically being under-recognised in adults. However, these latest findings show that older Australians are seeking high levels of care for whooping cough – and it's the over 65s who need the most support, with each case averaging 4.7 prescriptions, 2.2 antibiotic prescriptions, and 0.2 emergency department admissions.
This is compared to much lower healthcare demands in those aged 45 to 65, who averaged 1.1 prescriptions, 0.1 antibiotic prescriptions, and 0.1 hospitalisations.
The analysis reveals just how dramatically whooping cough-related healthcare use changes as we age, and sheds light on the vulnerabilities of older people suffering from the condition.
Researchers suggest the high burden of healthcare use in this age group supports further evaluation of prevention of whooping cough for over 65s.
Click here to access the study.
The 45 and Up Study is the largest ongoing study of healthy ageing in the Southern Hemisphere. Find out how the Study is powering other research into smoking and heart disease, physical activity and mental health.
If you'd like to stay up-to-date on the study, join the 45 and Up facebook community, sign up for our newsletter or explore more of the research here.