Latest news: 30 October 2017.
The long-running 45 and Up Study is set to become an even richer resource for researchers, with plans to collect up to 50,000 blood samples from participants, the Study's Annual Forum heard.
45 and Up Study Scientific Director Professor Emily Banks said the Study was going from strength to strength in the era of big data, with the ability to link participants' survey data with an ever-increasing range of other datasets. For example, linked data were now available on more than 60 million Medicare Benefits Schedule records and more than 2.1 million hospital separations, she said.
"There is very rich data available and we also have a wide range of sub-studies using the 45 and Up framework to go into greater detail − a lot of these are bearing fruit," Professor Banks told the Forum in Sydney this month.
She said research into cancer, cardiovascular disease, mental health and health services were major growth areas for the Study. To date:
About 140 projects have been conducted using the Study, including 20 sub-studies
More than 650 researchers from over 75 organisations, including 28 policy agencies, have used it
242 peer-reviewed papers have been published
58 grants have been awarded, totalling about $31 million.
The next phase: Large-scale blood collection
Professor Banks said the next phase of the study would involve the collection of up to 50,000 blood samples from Study participants.
Integrating existing data from participants with new data from the analysis of blood samples would allow researchers to examine the relationship between biology, the environment and lifestyle and their impact on a range of health conditions.
"This will add a whole new dimension to the Study, making it an even more valuable resource for researchers," she said.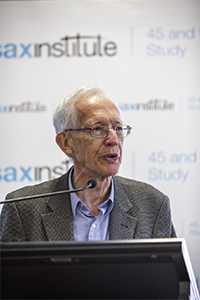 Professor Bruce Armstrong, leading public health expert and a former investigator on the Study, said there had long been a vision to collect blood samples from Study participants, but storage of the samples had previously been expensive. The soon-to-be opened NSW State Biobank, where samples could be stored, would provide an efficient method of storing a large collection.
"It is time to greatly extend the 45 and Up Study's value as a research asset by collecting and storing blood from 50,000 people," said Professor Armstrong, Adjunct Professor, School of Global and Population Health at The University of Western Australia and Emeritus Professor, School of Public Health, The University of Sydney.
A pilot study is underway to collect the first blood samples from a small number of participants to explore the most convenient approach to larger-scale collection.
Professor Armstrong said the biospecimen collection would enable the present Study data to be complemented with data on genomics, proteomics (study of proteins) and metabolomics (study of chemical processes involving metabolites). This would be available to researchers across the health and biomedical research continuum, and would increase the timeliness and relevance of health research.
Professor Peter Schofield, Executive Director and CEO of NeuRA (Neuroscience Research Australia), and Professor, School of Medicine, UNSW Sydney, outlined how genetic data from large population health studies such as the 45 and Up Study could be used to shed new light on disease associations.
"The biospecimen collection will be a valuable adjunct to the incredible resource that the 45 and Up Study has been and will become," he told the Forum.
Diverse research findings
The Forum also showcased researchers' findings from a diverse range of projects using the Study, including:
A study into GP care plans and Chronic Disease Management (CDM) Items showing that access to allied health may change the care trajectory of people with chronic conditions
Research showing that women who breastfeed may have a lower risk of CVD incidence and mortality
Findings that Chinese immigrants living in Australia show more cardiovascular risk factors the earlier they move and the longer they stay.
Find out more