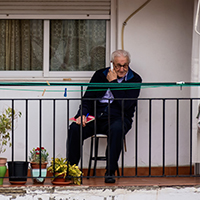 As Melburnians struggle through their second round of lockdown, the mental health consequences of the tough measures needed to curb the COVID-19 virus are becoming ever clearer. Data from the Australian Bureau of Statistics shows that loneliness has been the most common stressor during the COVID-19 pandemic – and we know from years of research that loneliness and social isolation translate into poorer health outcomes, such as higher rates of heart disease, cognitive decline and premature death.
Older people have been particularly hit hard by loneliness during the pandemic, as they are more likely to live alone and have been strongly advised to distance themselves from family members and friends. New research using data from the Sax Institute's 45 and Up Study has shown a strong correlation between lower levels of social activity and higher levels of psychological distress.
But the good news, in these COVID days, is the study's finding that contact with friends and family by phone is protective against psychological distress. That means Victorians confined to their home can materially lessen the effects of social isolation by simply getting on the phone, or maybe zooming with their family if their technological skills are up to it.
In a Perspective paper recently published by the Sax Institute's journal Public Health Research & Practice, researchers from the University of Sydney and Swinburne University say that the increase in loneliness and social isolation due to the pandemic places the focus squarely on the fundamental health importance of social connection.
They call for greater cross-disciplinary effort to understand the prevalence, predictors and consequences of loneliness and social isolation, along with strategies that can lessen their effects. The authors note that various interventions have been tried, including befriending schemes, individual and group therapies and shared activity programs – but there remains a lot of uncertainty over what actually works and for which groups.
There may be very few benefits to the COVID-19 pandemic and related lockdowns, but one might well be a greater awareness of and concern for people suffering from loneliness, along with renewed efforts to develop effective strategies.
"The long-term public health impacts of social isolation and loneliness can be turned around by the collaborative efforts of practitioners and researchers from multiple disciplines to generate evidence-based policy and programs," write the Perspective authors.
Read the study on social connection and older Australians here.
Access the Perspective on loneliness in Public Health Research & Practice here.