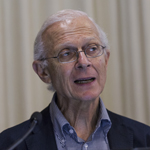 The Sax Institute congratulates Professor Henry Brodaty, who has been awarded the international $250,000 Ryman Prize in recognition of his three decades of tireless work investigating ways to combat dementia.
The Ryman prize – the world's richest prize of its type ‒ is a philanthropic initiative aimed at improving the lives of those aged over 75 years. It was established to create the equivalent of a Nobel Prize for people working in field of the health of older people.
Professor Brodaty is University of New South Wales Scientia Professor of Ageing and Mental Health, Co-Director of the Centre for Healthy Brain Ageing, and founding director of the Dementia Collaborative Research Centre, which is one of the Sax Institute's member organisations.
He is currently leading a $6.5 million world-first trial into modifiable risk factors for dementia that will draw on data from participants in the Sax Institute's 45 and Up Study to investigate whether an internet coaching tool can reduce the risk of the condition. The "Maintain Your Brain" trial will be the largest in the world to address modifiable risk factors for dementia in general and Alzheimer's disease in particular, including physical inactivity, cognitive inactivity, depression, overweight and obesity, diabetes, high blood pressure and smoking.
Ryman Prize Juror Dr David Kerr said Professor Brodaty was a worthy winner.
"We had an incredible field this year and there were some strong contenders from all over the world. Professor Brodaty's nomination was a standout, his dedication and achievements are truly world-class. He is a pioneer in diagnosis and treatment of Alzheimer's and dementia in Australasia and his influence has been felt around the world.''
Professor Brodaty said the prize was wonderful honour.
"We are all ageing. Older people are the fastest growing sector of our population and mental health is the largest contribution to disease burden as we age,"  he said. "I'm absolutely thrilled to receive this award. The Ryman Prize highlights the importance of enhancing the profile of research to improve the quality of life for older people."
Find out more