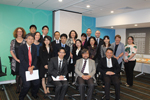 A delegation of Japanese Government representatives and researchers visited the Sax
Institute last month to learn about the Institute's work, including its development of cutting-edge research resources such as the Secure Unified Research Environment (SURE).
The delegation was in Australia to participate in the 15th Japan-Australia Joint Science and Technology Committee (JSTC), which aims to exchange information on scientific policies
and priorities, highlight key areas where collaborative research is being undertaken and explore further opportunities to strengthen science and research ties.
While in Sydney, delegation members visited three of the national research capabilities funded by the Australian Government's National Collaborative Research Infrastructure Strategy (NCRIS).
The Population Health Research Network (PHRN) is one of these capabilities. SURE was developed as part of the PHRN and is a purpose-built virtual research laboratory that enables researchers to securely and remotely access sensitive data – such as a population health data – without having to store information in their own computing environments.
Led by His Excellency Mr Makoto Katsura, Ambassador for Science and Technology Cooperation, Ministry of Foreign Affairs of Japan, the delegation included members from the Japanese Ministry of Education, Culture, Sports, Science and Technology, Japan Agency for Medical Research and Development (A-Med) and the Japan Society for the Promotion of Science.
They were given an overview of the Population Health Research Network by PHRN Chief Executive Dr Merran Smith, and a demonstration of SURE by the Program Manager Ms Jo Khoo.
"Resources such as SURE really open up new possibilities in using data sources from diverse sources to inform policy and practice and they pave the way for exciting new international collaborations," Ms Khoo said.
Mr Paul Harris, Counsellor (Education and Science) from the Australian Embassy in Tokyo, who accompanied the delegation, said the members were keen to learn more about the Institute's work in informing health and ageing policy and program development, and the Institute's role in developing world-class open access research resources.
"The delegation was particularly interested in the Population Health Research Network's network of health data, and the availability of the data for health research purposes," he said.
Find out more