This is part of a series of articles showcasing the Sax Institute members' diverse range of research with implications for future health policy and practice.
Ingham Institute for Applied Medical Research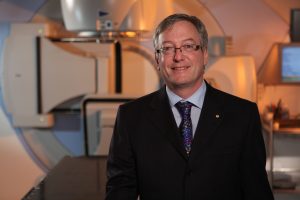 Broad engagement, transparency and collaboration have been key to the successful development of widely used models to estimate the demand for radiotherapy services and the survival benefits of those services, says Professor Michael Barton OAM, Research Director at the Ingham Institute for Applied Medical Research.
One of the major research projects led by Professor Barton and researchers from the Collaboration for Cancer Outcomes Research and Evaluation (CCORE) – an affiliate of the Ingham Institute and the Cancer Therapy Centre, at Liverpool Hospital – has sought to develop and refine methodologies to improve the efficacy of cancer services at both the national and international level.
Professor Barton said CCORE had done a number of large, collaborative studies that had had a major impact on cancer service policy and projects, including its work developing models that were now providing a guide for advocacy and planning, and a tool with which to measure system performance.
"This creates a measuring stick, and until you create that measuring stick, you can't really work to make your service better," he said.
In 2001, CCORE was commissioned by the Federal Government to determine the proportion of cancer patients who would benefit from radiotherapy services if they were treated in line with guidelines.
The resulting Radiotherapy Utilisation Model had informed the positioning and scale of radiotherapy services throughout Australia, including the Federal Government's $560 million investment in regional cancer centres from 2010, Professor Barton said.
Broad consultation had been crucial to the project's success, he said.
"At each step, we used a wide panel of more than 75 peer reviewers – all the heads of guidelines committees, people both inside and outside radiotherapy, and policymakers. Right from the very beginning, we involved consumers and advocates who are going to use the model."
Transparency the key to adaptability
Following further research, the Radiotherapy Utilisation Model was updated in 2014, and showed a slight reduction in the proportion of cancer patients for whom radiotherapy was indicated – down from 52% in 2001 to 48% in 2014.
Professor Barton said this shift reflected the increasing detection of earlier stage disease, as well as small changes in the indications for radiotherapy over the previous decade.
"[The model is] quite transparent – [anyone using it] can see how it works. If there's an update, we can easily make that change," he said, adding that the modelling could also be applied to other geographic regions with different population mixes and cancer types.
Due to this level of adaptability, the model had also been adopted by the International Atomic Energy Agency to evaluate the demand for radiotherapy in low- and middle-income countries, and by the European Society for Radiotherapy and Oncology to determine the adequacy of radiotherapy supply and access across Europe, he said.
Measuring the benefit
Building on the success of the utilisation model, CCORE researchers had also assessed the benefit of radiotherapy at the population level for various cancer types.
The resulting Radiotherapy Benefit Models could estimate significant overall survival benefits with the optimal use of radiotherapy over and above other cancer treatment modalities. Professor Barton said this modelling had been taken on board by the Global Task Force on Radiotherapy in Cancer Control, an organisation that seeks to promote equity of access to radiotherapy services and reduce global cancer burden.
CCORE research published in Lancet Oncology in 2015 also showed the cost-benefit ratio of such treatment, revealing that a $US94 billion investment in radiotherapy services in low- and middle-income countries over 20 years would translate to a $US280 billion benefit.
CCORE researcher Dr Jesmin Shafiq said an upcoming project, funded by the Cancer Institute NSW ,would evaluate the gap between actual and ideal use of radiotherapy in NSW and the ACT.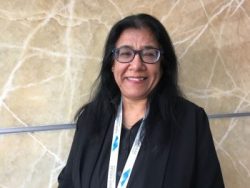 "This project will be really valuable. It will be a quantifiable model to show the shortfall in radiotherapy and the impact that that has on the burden of disease and on the mortality rate," Dr Shafiq said.
In addition to its work in radiotherapy, CCORE has developed similar models for chemotherapy, and will soon begin work on a model for surgical cancer treatments.
The Ingham Institute for Applied Medical Research is a collaboration between the South Western Sydney Local Health District, Western Sydney University, UNSW Australia, and the local community.
The Sax Institute's unique organisational structure, with 47 members from public health and health services research groups and their universities, connects us with a powerful public health network and world‑leading research expertise.
Find out more