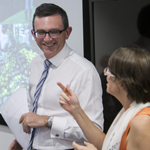 From filling the gaps in care provided to burn injury patients to investigating effective ways of presenting research evidence to policy makers, the recent HARC Scholars Forum showcased the benefits of the scholarship program, which aims to build the skills of future health leaders in using research evidence in policy making.
Six researchers who have received HARC scholarships since the inception of the program in 2010 gave short presentations on their research, findings and key outcomes to the forum, held at the NSW Agency for Clinical Innovation in Sydney.
HARC – the Hospital Alliance for Research Collaboration – is a partnership between the Sax Institute, The Agency for Clinical Innovation, the Clinical Excellence Commission and the Bureau of Health Information and aims to drive innovative thinking to address healthcare challenges.
Anne Darton, from the NSW Agency for Clinical Innovation (ACI), described how her research in the UK into post-acute care of burns patients was being translated into several NSW programs, including resources being made available for patients to use camouflage make-up as an adjunct therapy and the development of a burns quality accreditation program.
Bea Brown of the Sax Institute used her scholarship to conduct a US study tour in 2013 looking into  complementing evidence-based medicine with evidence-based implementation. She said the project had led to the development of the Clinician Led Improvement in Cancer Care Project ‒ a randomised controlled trial involving prostate cancer patients, urologists and hospitals across NSW, which is assessing the implementation of a clinical network.
Research into human factors and their impact in healthcare was the focus of the research by Bronwnyn Shumack of the Clinical Excellence Commission (CEC), who received her scholarship in 2011. She told the forum her scholarship led to the development of strong links with international leaders in the field and to the appointment of a 'human factors' specialist who is currently working with the CEC.
Gai Moore of the Sax Institute, who received a scholarship in 2013, conducted research in the UK and Belgium into the most effective ways of presenting research evidence such as literature reviews and guidelines for policy makers.
Fidye Westgarth, Manager of the ACI renal network, said her 2010 scholarship took her to the UK where she looked into ways of building sustainability into clinical innovation – research that has helped drive immense change in the way ACI develops programs to ensure they are sustainable.
The then fledgling world of social media was the focus of research conducted by Carolyn Der Vartanian, a 2010 scholar and former manager of the  CEC's Blood Watch program. She looked into ways of using social media to encourage clinicians to adopt evidence based practices, culminating in projects like a 24-hour twitter chat involving 297 participants on World Sepsis Day in 2012.
ACI CEO Dr Nigel Lyons, said the Forum clearly demonstrated the ongoing benefits of the scholarship program.
"There is enormous value in giving people this opportunity," he said.  "Each organisation has benefited from the activity after people have returned."
Find out more