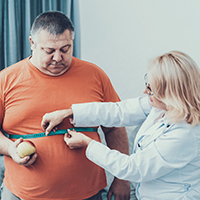 5 April 2019. New South Wales has made significant inroads into improving the healthiness of foods available in schools and hospitals but other states lag behind, according to a new report on Australia's efforts to address rising rates of obesity.
Released this month, the 2019 update of the Food Policy Index was compiled by researchers from the Global Obesity Centre with the support of The Australian Prevention Partnership Centre, which is administered by the Sax Institute. The new report finds substantial variation across state, territory and federal governments in the implementation of recommended policies.
In NSW, the government has started to actively monitor the healthiness of school canteen and hospital meals, including detailed auditing and checking for compliance. Meanwhile, the Western Australian Government has banned alcohol advertising on public transport and the ACT has removed junk food advertising from Canberra buses. Victoria has improved the healthiness of food available in sport and recreation facilities, while the Queensland government is planning the establishment of a health promotion agency.
But there remains much to do, says report lead author Associate Professor Gary Sacks, a Senior Research Fellow at Deakin University's Global Obesity Centre.
"Governments must get better at making sure they're not just talking the talk, they're also walking the walk. All our schools, hospitals and community sporting grounds should be places where healthy food and drinks are the norm."
Associate Professor Sacks says the report clearly identifies the next steps to tackling the obesity epidemic. These include:
Developing a comprehensive National Obesity Strategy
Adopting a national approach to restricting childhood exposure to unhealthy food and beverage promotion
Finalising work on labelling added sugars on packaged food and drinks, and completing the review into the Health Star Rating system
Implementing a national approach for healthy food provision in schools, hospitals and sports and recreation facilities.
"The upcoming federal election brings the opportunity for both major political parties to commit to new policies that will address the obesity epidemic head on. It's important that progress here does not stagnate. Summits and commitments are all well and good, but this year we need to see serious action," says Associate Professor Sacks.
The report is being presented to states and territories through their respective health ministers and will feed into the development of a National Obesity Strategy.
You can access the report here.