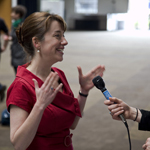 In a hundred years, people will look back on some currently innovative medical procedures with as much horror as we now view the ineffective or harmful treatments of the past. But which ones?
Professor Emily Banks, Scientific Director of the Sax Institute's 45 and Up Study and Professor of Epidemiology and Public Health at ANU, argues that robust health systems should allow us to evaluate data quickly, identify what works and doesn't work, and take action to minimise the capacity to cause harm.
This presentation was given at the annual meeting of the World Economic Forum, held in Davos-Klosters in Switzerland in January 2017.
Find out more