Latest news: 11 January 2017.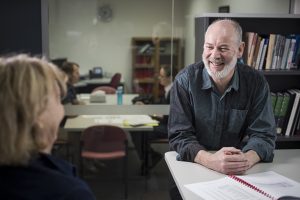 Identifying those people in the community who have underlying complex health and social needs is the first step towards providing a more integrated network of services to help them avoid hospitalisation.
But to do that you need good data.
A Sax Institute project with the Central Coast Local Health District is attempting to address this.
The LHD is one of three demonstrator sites involved in the NSW Health Integrated Care Strategy, and data analysis is at the heart of the Central Coast Integrated Care team's 10-year vision to streamline care for patients with high needs, such as vulnerable aged people and those with chronic or complex conditions.
They are drawing on the expertise of the Sax Institute's Analysis for Policy program, and making use of data linkages accessible through the 45 and Up Study, to look into ways to predict which people in the community are more likely to be admitted to hospital in the next 12 months.
Analysis for Policy was developed by the Sax Institute to help our partners build better health systems. It enables health decision makers to use Australia's largest ongoing research resource – the 45 and Up Study – as a tool to guide timely health planning and investment decisions. The program takes a customised, one-on-one approach to help clients define and answer research questions that are relevant to their work. It was also designed to foster new connections between decision makers and the research community.
The value of data linkages
Dr Peter Lewis, Director of the Central Coast Public Health Unit,  says that while there are 14,000 people from the Central Coast participating in 45 and Up Study, the LHD plans initially to analyse data from the entire Study population of about 260,000 NSW people aged 45 and over.
Because Study participants have answered questions such as whether they live alone and what type of support networks they have, the data will provide valuable insights into people's full health and social care journeys, he says.
That information can be linked with a range of other datasets ‒ both state and federal ‒ including Medicare, hospitalisation and home care data, to reveal patterns in people's interactions with not only medical services, but with other community-based services.
"Regardless of where people live, we know there will be elements to the pattern of services used that will still be of interest," says Dr Lewis.
He says the Analysis for Policy program is helping to guide the research, to ensure it provides the data needed to answer pressing questions such as what factors are red flags for people being at an increased risk of hospitalisation in the near future, and what can be done to avoid that.
Ultimately, he says the findings will help not only to find those people in the community who can most benefit from services, but it will ensure they can access a streamlined network of care well before their health deteriorates and they end up in hospital.
Find out more