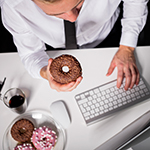 An Analysis for Policy project that has revealed that lifestyle-related illnesses among workers cost governments hundreds of millions of dollars each year has demonstrated the potential value of programs to target chronic disease prevention in the workplace.
Dr Bev Lloyd, manager of Get Healthy at Work at the NSW Office of Preventive Health, says the Office has been working with the Sax institute's Analysis for Policy team team to explore both health service use and associated costs among NSW workers with newly acquired lifestyle-related diseases.
The research, which was presented at the 2016 45 and Up Study Collaborators' Meeting, using data from the Study and linked datasets, shows that the bill for newly diagnosed chronic illnesses in NSW alone ranges from $330 million for heart disease to $170 million for blood clots, $92 million for strokes, $87 million for hypertension, almost $40 million for obesity, and $35 million for type 2 diabetes.
Expert analysis helps tell the story
While Get Healthy at Work is already well established, Dr Lloyd says the new findings give even more information about the importance of addressing chronic disease in workers in the 45 and over age group.
"It is telling more of the story about why programs like Get Healthy at Work are important, "she says. "It certainly does justify the government commitments to reduce such [chronic disease] costs."
Analysis for Policy was developed by the Sax Institute to help our partners build better health systems. It enables health decision makers to use Australia's largest ongoing research resource – the 45 and Up Study – as a tool to guide timely health planning and investment decisions. The program takes a customised, one-on-one approach to help clients define and answer research questions that are relevant to their work. It was also designed to foster new connections between decision makers and the research community.
Using the 45 and Up Study for mental health at work
Dr Lloyd says the NSW Office of Preventive Health is now planning to use the 45 and Up Study to analyse use of health services by workers with mental health problems, to support the development of a new mental health module within Get Healthy at Work.
She says working with Analysis for Policy has been a "true, open collaboration", and has helped to ensure the research is designed in a way that addresses the most relevant questions.
While external researchers have contributed to the research, Dr Lloyd says an additional bonus of the project has been that it is also helping to build research capacity within the NSW Office of Preventive Health.
Find out more