If you've led research that's had a significant impact on health policy or services, now is the time to apply for the Sax Institute's 2019 Research Action Awards.
The Awards celebrate research that makes a real-world difference. Up to three Awards are granted, and each winner receives a certificate plus a prize of $5,000.
Applications are due by Monday 26 August 2019. They are open to early career researchers who work for one of the Sax Institute's Ordinary Member organisations and have up to 15 years' postdoctoral or equivalent experience. Apply now!
Using health data to help the homeless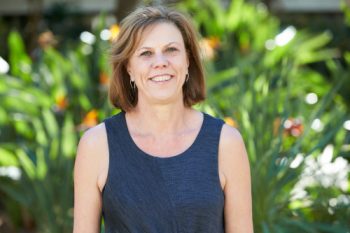 Last year, Associate Professor Lisa Wood, a Senior Research Fellow at the University of Western Australia's School of Population and Global Health, was honoured with a Research Action Award for her work with homeless people. Professor Wood and her team have developed the largest database of linked homelessness and health data in Australia, which they have been using to advocate for change.
Professor Wood says winning the 2018 Research Action Award has helped cement the strong translation and policy focus of her research group. One major highlight since winning the Award was securing a grant with Homeless Healthcare to pilot a homeless outreach service for people with mental health and drug and alcohol issues (HODDS). The service began in February this year, connecting a psychiatrist and mental health nurse with people in homeless drop-in centres. The focus is on building trust with clients who may be wary of mainstream services.
"Sadly, some of their clients have been living on the streets for years with undiagnosed or untreated mental health issues," says Professor Wood. "We are evaluating the pilot, and because we can already see the enormous gap it's filling in the sector, we are collecting data that objectively demonstrates its impact to help secure ongoing funding."
Another area of impact has been the winter flu. Last year, Professor Wood and her team evaluated a trial homelessness project at Royal Perth Hospital, looking at reducing the demand on hospital beds during the busy winter period.
"One of the strategies was to provide flu vaccinations to homeless patients when they came in to Emergency Department," Professor Wood explains. "But often they were too unwell.  We suggested that in the future, it could be more effective to run flu clinics at community drop-in centres and crisis accommodation."
The WA Department of Health funded the pilot for a second year, and in June this year, Homeless Healthcare ran 20 flu clinics, with around 450 people vaccinated, giving vulnerable people access to flu vaccination who might not have otherwise received it.
Looking ahead, Professor Wood says she's keen to help build capacity for homeless health research nationally, with a focus on identifying service gaps and advocating for solutions. "We know from our WA research that housing has to be a critical part of the solution," she says. "And as my colleague Dr Andrew Davies from Homeless Healthcare often says, it's futile to patch people up in hospital and discharge them back to the streets and living conditions that made them sick in the first place."
Apply now
If you're ready to take your research work to a new level, apply now for the Research Action Awards.
Winners will be chosen by a committee of national and international experts chaired by the celebrated and widely published UK academic, Professor Trish Greenhalgh – Professor of Primary Care Health Sciences at the University of Oxford.
The winners will be announced at an invitation-only event in Sydney in late November 2019.
Applications must be received by 5pm on Monday 26 August 2019. Download the application forms and instructions below, and good luck!