The Sax Institute is excited to launch a new homepage for its peer-reviewed journal, Public Health Research & Practice. We've made the journal even easier to navigate, giving readers fast access to some of the best research and perspectives on the most pressing public health issues facing Australia today.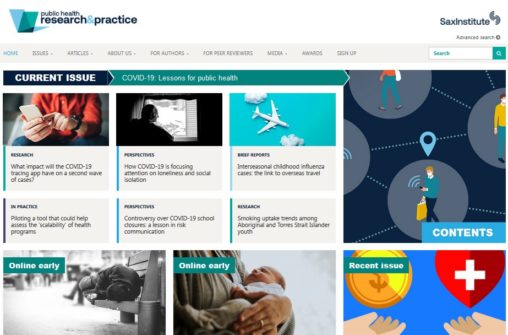 New sections focus on the latest issue, online early content, most-read articles and PHRP in the news. The website is also more responsive to mobile devices, which means it's more convenient to catch up with the journal wherever you are. And if you're publishing with us, your work will now be more visible to Google, attracting a wider audience than ever before.
Signing up is also much easier: just click here to receive a free, quarterly alert whenever a new issue is published.
Public Health Research & Practice is free to access and has been independently ranked as Australia's top open-access journal in the public health, environmental and occupational health space.
Check out the journal's new look and latest issue here.