The Sax Institute's 45 and Up Study is set to play a major role in improving cancer outcomes in Australia, experts heard at a forum in Sydney led by internationally renowned cancer epidemiologist Professor Dame Valerie Beral.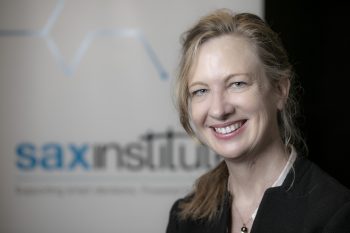 Held at the Parliament of New South Wales on 12 December, the Sax Institute Forum brought together more than 50 senior cancer researchers, practitioners, policy makers and thought leaders to discuss improving cancer outcomes through longitudinal research.
Guest Speaker Professor Karen Canfell, Director of the Cancer Research Division at Cancer Council NSW, said data from the 45 and Up Study had now begun to mature, with the cohort counting over 70,000 cancer survivors and around 20,000 new cases since the Study's inception in 2006.
Professor Canfell said the 45 and Up Study – which follows the health of more than 250,000 NSW men and women aged over 45 years – had the potential to underpin a wealth of policy-relevant cancer research and "provides an opportunity to uncover part of the story of how to improve outcomes".
The example of lung cancer
Using lung cancer as an example, Professor Canfell outlined how 45 and Up Study data can help improve primary prevention and better understand pathways to diagnosis. She said analysis of the data could also open up the possibility of screening for lung cancer, which is not currently done and considered unlikely to be cost-effective at a population level.
But the 45 and Up Study could change that picture. Its data could be used to develop more accurate risk classification tools, leading to better selection of candidates for screening with criteria that would not be restricted to smoking status alone, Professor Canfell said.
Already, Cancer Council is using 45 and Up Study data to develop a model of lung cancer in the population, which will be open to policy makers who want to assess potential interventions for lung cancer control, Professor Canfell noted.
In the coming decade, the 45 and Up Study will be used to assess patterns and costs of cancer care in the immunotherapy era, and explore longer term incidence outcomes and mortality, she said.
The Sax Institute's plan to build a large-scale collection of blood samples from 45 and Up participants has immense potential to provide critical data not available in other cohorts, she added. It will contribute to understanding how genetics interact with environmental and lifestyle factors to improve health outcomes, including cancer outcomes, she said.
Retracing the history
The keynote speaker at the event was Professor Dame Valerie Beral, Professor of Epidemiology and Co-Director of the Cancer Epidemiology Unit at the University of Oxford. Dame Valerie gave a fascinating talk which traced the origins of major longitudinal studies back to early research into smoking and lung cancer in the 1950s. She pointed to the UK's Million Woman Study, for which she is Principal Investigator, as an example of longitudinal research that is having an impact on cancer outcomes, thanks to an analysis of its data that linked hormone replacement therapy to increased rates of breast and other cancers.
Dame Valerie was joined by Professor Canfell and Professor Emily Banks, Senior Adviser at the Sax Institute, on a lively discussion panel that fielded questions on a broad range of issues, including data privacy, the need for local data and the difficulties of research translation.
Genomics and precision medicine
On the hot topic of genomics and precision medicine, Professor Banks cautioned against the hype that so often surrounds emerging fields.
"Although it's exciting to be in the middle of a revolution, epidemiologists ask what is the incremental value of an intervention, because change is always incremental. If we look at new targeted therapies, we'll need to be able to identify what proportion of cancers are treated with them and who is getting them. We absolutely need to engage, but part of that engagement is sorting out the hype from the reality," she said.
The panellists agreed that a key issue in longitudinal cancer research is data linkage: the ability to consolidate all the available datasets – whether on tumour markers, treatments or GP interventions – and ensure that they are "coherent, timely and useful", as Dame Valerie put it.
"You need policy makers who can come along the journey with you," said Professor Canfell.
"As researchers we must remain true to the evidence that we find, that must be our role, but we have to be at the table with policy makers and asking the right questions."
Sax Institute Deputy CEO Dr Martin McNamara, who opened the forum, said the conversations and ideas that emerged from it had highlighted a number of interesting directions that would help shape the future development of the Study.
Dr McNamara said further forums were being planned through 2019 to discuss the applicability and development of the Study for conditions such as cardiovascular disease, mental health and wellbeing and chronic conditions.